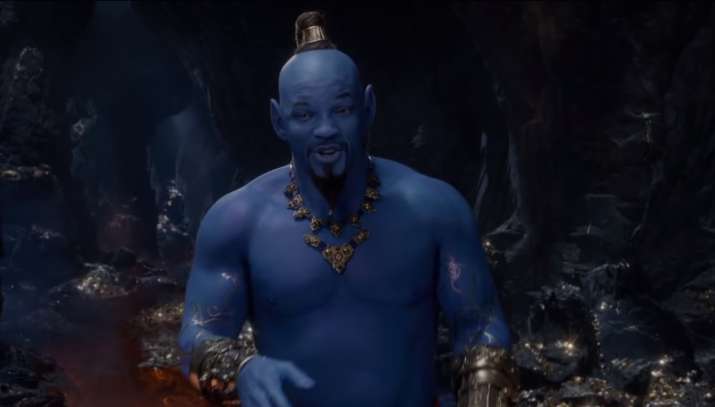 Just now Disney has dropped the first teaser of its upcoming remake of classic Aladdin. Directed by Guy Ritchie, the film is based on 1992 animal film which goes by the same name. John August has co-written the screenplay with Ritchie. In the video, Aladdin is seen entering the cave to fetch the lamp. After rubbing the lamp he has his first encounter with the blue genie played by Will Smith.
While the fans wanted to see the classic genie with round features, this contemporary blue genie played by Will Smith is nothing short of disappointment. The CGI is not up to the mark, considering that the classic is being remade in 2019.
The teaser is introduced with shot from a moonlit desert. Jafar is asking Aladdin to hand over the lamp to him. What happens next is something we all know. In the opening scene, the iconic character Lago is seen flying over Agrabah. The theme music has drawn inspiration from the classic theme which we heard back in 1992.
Apart from Will Smith, other star cast includes Navid Negahban (Homeland) as the Sultan; Nasim Pedrad (Saturday Night Live) as Dalia, Princess Jasmine's hand maiden and confidante; Billy Magnussen (Into the Woods) as Prince Anders, a potential husband for Princess Jasmine; and Numan Acar (Homeland) as Hakim, Jafar's right-hand man and head of the palace guards.