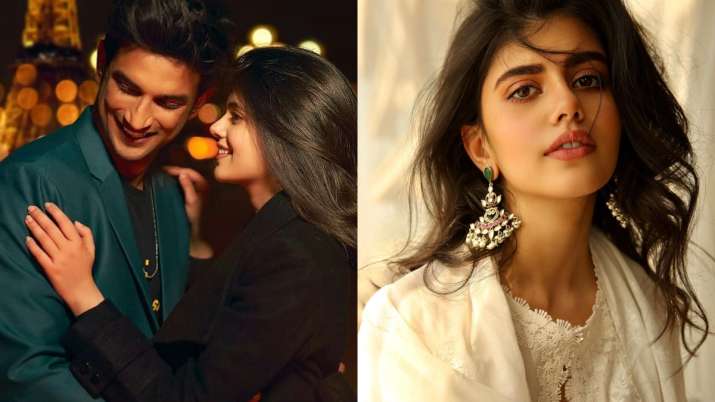 Bollywood acyor Sushant Singh Rajput's death has left many in shock. While it has been over two weeks that the actor passed away, his family and fans are still trying to accept the fact that the actor is not with us anymore. Mumbai Police has been investigating the actor's death as his family and closed ones believe that Sushant cannot take his own life. Till now, more than 27 people have been interrogated in the matter. Police have been trying to dig out information about Sushant from 2007 to 2020 in order to get details about how his personal and professional life changed throughout the years. On June 30, Sushant's Dil Bechara co-star Sanjana Sanghi has been called for recording her statement at Bandra Police Station.
Sanjana Sanghi is all set to make her debut in Sushant Singh Rajput's last film Dil Bechara. The film will also mark the debut of Mukesh Chhabra as a director and will release on Disney Plus Hotstar on July 24. On Tuesday, Police has recorded Sanjana's statement about Sushant.
ALSO READ | VIDEO: Sushant Singh Rajput grooving with onscreen grandmother during Dil Bechara shoot
Last year, there was a controversy in which it was said that reports that Sanjana had accused Sushant Singh Rajput of sexual harassment . The actor had then denied such claims and clarified that these were baseless rumours She tweeted, "Her statement read, "On returning from a long trip to the US yesterday, I read several baseless and unfound stories with respect to misconduct and misbehavior on the sets of our film Kizie and Manny. I'd like to clarify that no such incident took place with me. Let's put an end to these conjecture." The film was earlier called Kizie and Manny.
October 23, 2018
After Sushant;'s death, Sanjana had shared a video in which she was seen breaking down and talking about the late actor and the time spent with him. She wrote, "You gave me a forever, within a limited number of days, and for that. I'm forever grateful. - our beloved novel, The Fault In Our Stars. A forever of learnings, and of memories."
As a tribute to Sushant Singh Rajput, Dil Bechara will be available to watch for free for everyone including subscribers and non-subscribers from July 24. Taking to Instagram, Mukesh Chhabra wrote, "Sushant was not just the hero of my debut film as a director but he was a dear friend who stood by me through thick and thin. We had been close right from Kai Po Che to Dil Bechara. He had promised me that he would be in my first film. So many plans were made together, so many dreams were dreamt together but never once did I ever imagine that I would be releasing this film without him. There can be no better way to celebrate him and his talent. He always showered immense love on me while I was making it and his love will guide us as we release it."
"And I'm glad that the Producers have made it available for everyone to watch. We are going to love and celebrate you my friend. I can visualise you with your beautiful smile blessing us from up above. Love you," he added.
Dil Bechara happens to be the Hindi remake of The Fault In Our Stars which is based on John Greens 2013 bestseller novel. It was previously slated to hit the screens on May 8 2020 but the release date got postponed because of the COVID-19 pandemic.
(With inputs from JP Singh)