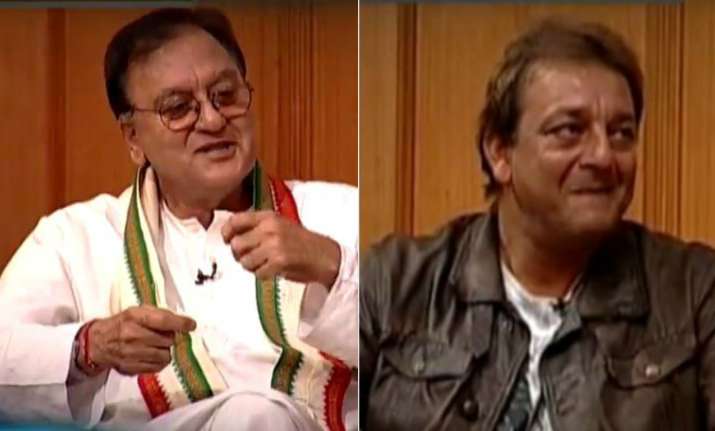 It is a known fact that Sanjay Dutt was very close to his late actor father Sunil Dutt. We have often heard him calling Senior Dutt his pillar of support. When Sanjay Dutt appeared on Aap Ki Adalat he walked down the memory lane and remembered his father. He also recalled how he caught him smoking in his teen days.
Sunil Dutt, when appeared in Aap Ki Adalat admitted that he was a strict father. Narrating how he caught his son smoking, he said that he found Sanjay lying in the garden and saw smoke coming out. When he reached there, he saw that the Munnabhai actor was smoking a cigarette. After that incident, he decided to send him to a boarding school.
While the fans celebrate 89th Birth Anniversary of legendary actor Sunil Dutt today, son Sanjay Dutt brings a smile to our face by recalling how his father used to beat him for smoking cigarettes in an episode of Aap Ki Adalat. Sanjay Dutt revealed that when he was a young boy, he used to smoke the cigarettes thrown out in the verandah by his father Sunil Dutt. He even mentioned that the day his father caught him doing that, he was sent away to the boarding house as the punishment.
Also Read: Aap Ki Adalat Throwback: Sunil Dutt on why he took Bal Thackeray's help for son Sanjay Dutt
Birth Anniversary Special: How Sunil Dutt shuffled his way into Bollywood from bus depot!
It is also said that Sanjay Dutt even wanted to play the character of his father Sunil Dutt in his upcoming biopic 'Sanju' but doing so could create a confusion between the real-life Sanjay and reel life Sanjay so he dismissed the idea. Now, the fans will see Paresh Rawal stepping into the shoes of Sunil Dutt for the biopic. Sanjay Dutt'srole will be essayed by Ranbir Kapoor.
The trailer of the much-awaited Sanjay Dutt's biopic has already released and shattered the internet with praises and applauds. Directed by Rajkumar Hirani, the movie will hit the theatres on June 29th