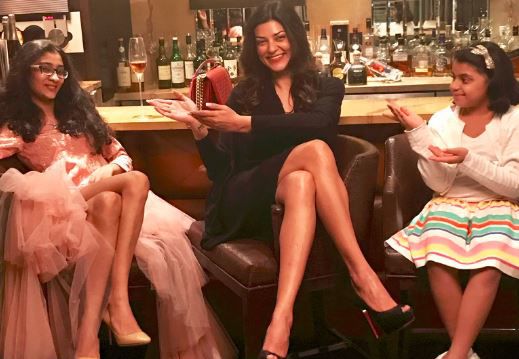 Sushmita Sem is a woman of substance. From being miss universe to a single mother, her journey has been an inspiring tale for many. The actress is a proud mother of two adopted girls named Renée and Aaliyah. As Sushmita's daughter Renee turns 19 and enters the last of teen years, Sushmita took to her Instagram handle and shared a beautiful collage of pictures with a heartfelt message for her daughter.
She captioned the collage as, "Happyyyyyy Birthday my#firstloveHere comes the last of the#teensenjoy every moment of it..sing, dance, learn, grow, make new friends, explore new horizons, embrace the past, look forward to the future but live in the moment & with each step create who you choose to become. Your sister & I love you beyond!!! Here's to you & I turning 19 yrs old today…Aim for the skies…it's#timeto#flyDugga Dugga Shona!!! Enjoyyyyyyyyyy!!! Mmuuuaaah."
In Bollywood, Sushmita Sen was last seen in 2010's No Problem and then in 2015 she featured in Bengali film Nirbaak, after which she hasn't appeared on the big screen. Speaking to reportrs about making a comeback to films, Sushmita said: " (I am) Finally reading lot of scripts and I really like two. I will tell you when I am closer to signing it," reports IANS.
Sushmita Sen adopted Reene in 2000 and Alisah in 2010.
On the work front, Sushmita has been absent from the screens from a long time now. She was seen last in 2010 with Anil Kapoor, Kangana Ranaut, Sanjay and Sunil Shetty in No Problem. Currently during a fashion event, when quizzed about her comeback she said that she is reading a lot of scripts these days of which she really likes two and will announce the projects when she's closer to signing them.