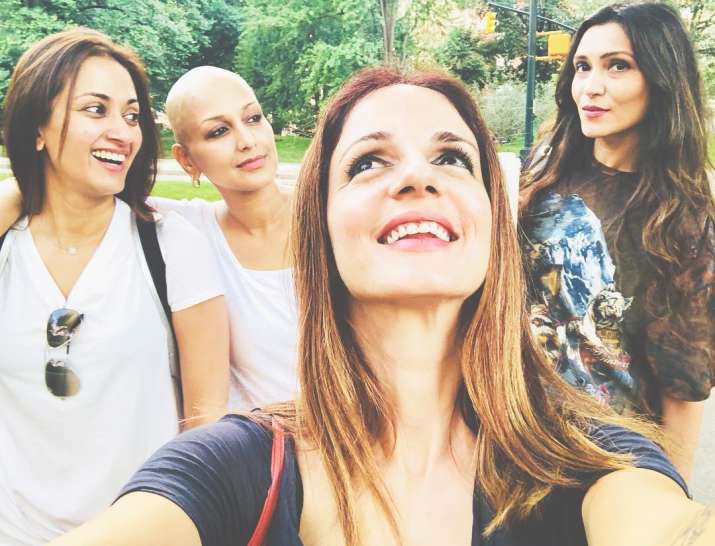 Sonali Bendre found a never-ending source of strength in her family and best friends when she was diagnosed with cancer. Despite the physical trouble she was going through, her people kept her chin up always. We've seen that through her Instagram posts that the actress is never going drop her weapons in the battle against cancer. She's coming stronger day by day and according to the latest reports, she's responding well to her cancer treatments.
While Sonali Bendre is fighting cancer in New York, her best friends including Sussanne Khan and Gayatri Oberoi stand by her like the pillars of support. On Saturday, Hrithik Roshan's ex-wife shared a groupfie on her Instagram with Sonali Bendre. In the caption she wrote, "This is Us.... Fight for you, Respect you, Include you, Encourage you, Need you, Deserve you, Stand by you. #myheartmonsters #adayinthepark #surfon #summeroflove2018"
As Sonali Bendre is away from her home, her best friends have stepped into her shoes to keep her book club in Mumbai get going. Recently, they featured in a Facebook LIVE in which they talked about how their common love for books brought them together.
Sonali Bendre flew to New York to get her cancer treated. Ever since then, her friends have dedicated many heart-warming messages including the one which Sussanne Khan shared around am month ago. She wrote, "What I know for sure... I know for sure that no matter what the tide brings in we have each other to carry on our backs n swim safely to the shore...
I know for sure in a world filled with question marks these have all my answers... and I definitely know how beautiful the future gonna be.... coz I have them to share it with... my force field"
In July this year, Sonali Bendre was diagnosed with high-grade cancer which has metastasised. She shared the news with her Instafam, writing in details how life gives us surprises, some of which are not pleasant.
The 53-year-old actress was hosting India's Best Dramebaaz when she was diagnosed with this life-threatening disease. She was replaced by Huma Qureshi.