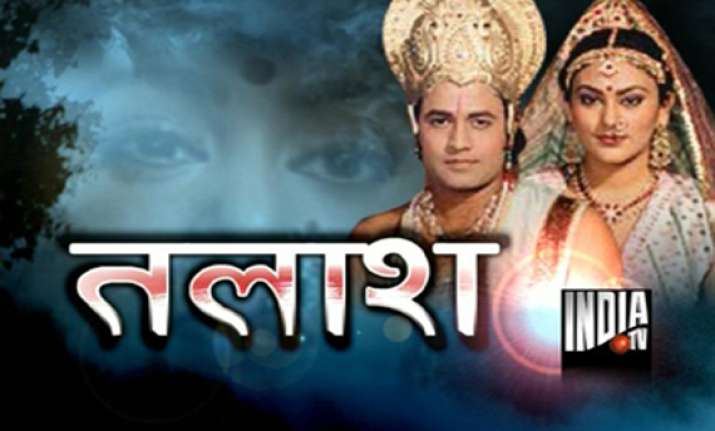 Mumbai: India TV on Saturday night telecast in its ongoing "Talaash" series, the latest status about Arun Govil and Deepika Chikhalia, who acted as Ram and Sita respectively in the hugely popular serial Ramayana 25 years ago.
Arun Govil is running his own Ram-Lakshman production company with 'Lakshman' Sunil Lahiri, while Deepika works as the marketing head in her husband Hemant Topiwala's cosmetic company that manufactures brands like Tips N Toes nail polish and Shingar bindi.
Both Arun Govil and Deepika spoke to India TV about their dreams, their aspirations and the vast amount of love and affection they got from fans across India and abroad for their path-breaking roles.
Deepika Chikhalia (now Topiwala) works in her husband's office from 11 am till 5 pm daily, and looks after her two daughters. She said, how the image of Sita has still stuck to her, and she always got offers for religious roles. Deepika says, she's happy and fortunate to have played the role of Sita.
Deepika was elected to Lok Sabha on BJP ticket from Vadodara in 1991, but she soon got disillusioned with politics. She  acted in Bengali film Aasha O Bhalobasha in 1989, and also in a Tamil film Nangal in 1992. She acted with Rajesh Khanna in a Bollywood film Khudai with Rajesh Khanna in 1994. This was her last foray in movie world.
Arun Govil's first film  in Bollywood was with Rajshree banner - 'Paheli' (1979). His 'bhabhi' renowned TV host Tabassum had introduced him to Tarachand Barjatya.  He then worked as a hero in another Rajshree film 'Saawan Ko Aane Do'.  It was musical hit film.  He also worked in 'Saanch ko Aanch Nahin', 'Itni Si Baat' and 'Aiyaash'.
Ramanand Sagar took him for his TV serial Vikram Aur Betaal, in which Govil acted as King Vikramaditya. The next TV serial Ramayan changed Arun Govil's life.
Born in a government official's family in 1958 in Meerut, Govil came to Mumbai to do business after his education in Meerut University in 1975. Govil used to watch Ram Leelas in his childhood alongwith his mother, but he never dreamed he would become the very image of Lord Ram in the hearts of millions of Indians one day.
After Ramayan, Govil  acted in nearly a dozen films in Bollywood and the South. In almost half of these films, he played the roles of Lord Vishnu or Lord Indra. He got offers to act as Raja Harishchandra and Lord Buddha in TV serials.
Govil has stopped acting for the last five years.
Says Prem Sagar, son of Late Ramanand Sagar:"When we took Govil's screen test for Ramayan, we were 200 per cent sure we had found Ram. He had a perfect physical structure. Papaji worked on him and gave him his popular all-knowing smile as Lord Ram".
Prem Sagar further says: "In Gujarat, there were tribals who used to put their babies at the feet of Arun Govil to seek his blessings. I remember this incident while shooting in Umergaon".
Says Rajesh Puri, famous for his role as Lallu in the popular soap Hum Log: " Govil had his guruji to whom he is fully devoted and spends most of his time in religion and faith". The guruji is Brahma Rishi Kumaraswamy who runs the Lakshmi Narayan Dham.
Arun Govil nowadays wears specs and his ageing, but he has the same all-knowing smile of Ram.
Govil told India TV that he is busy nowadays giving sermons on Lord Ram and attending seminars on religious topics.
Asked whether he intended to return to TV serials, Govil smiled and said: "If God wishes, I may return, but as of now I have no such intention".
Govil revealed how late Prime Minister Rajiv Gandhi once requested him to campaign and even contest for Congress in Allahabad, but he politely declined to use his image of Ram for politics.