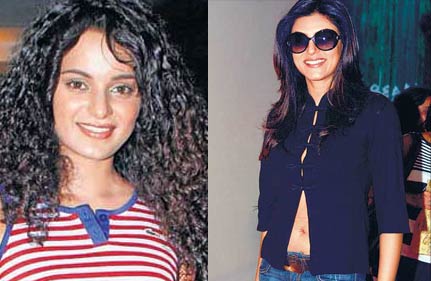 Recently, Kangna Ranaut and Sushmita Sen bumped into each other at a party.When the younger actress admired the t-shirt the Bengali actress had on, Sushmita took it off and gave it to Kangna. Right there at the party, says a media report.Says an eyewitness, "Sushmita was wearing a tee that said 'I love SEX and the city.' The sex was written in bold letters. Kangna loved the tee and told Sen as much.
"Sushmita promptly went to the washroom, took it off and gave it to Kangna and asked her to wear it."For the rest of the evening Kangna wore Sush's tee while Sushmita simply buttoned up the jacket she'd worn over the tee."Kangna and Sushmita met on the sets of
Anil Kapoor
's No Problem in South Africa and got along famously.
Sen treats the new actress like a younger sister and has named her Minnie Mouse because Kangna wears a lot of colourful hair clips with tiny ponytails, when not shooting."  
Says Ranaut, "Sush is a darling. I liked the T-shirt because of the tag line. Sex And The City is my favorite TV series. But I didn't expect her to give it to me.
"I generally said it's cute and was shocked and charmed at her warm gesture. That's Sush for you utterly charming!"