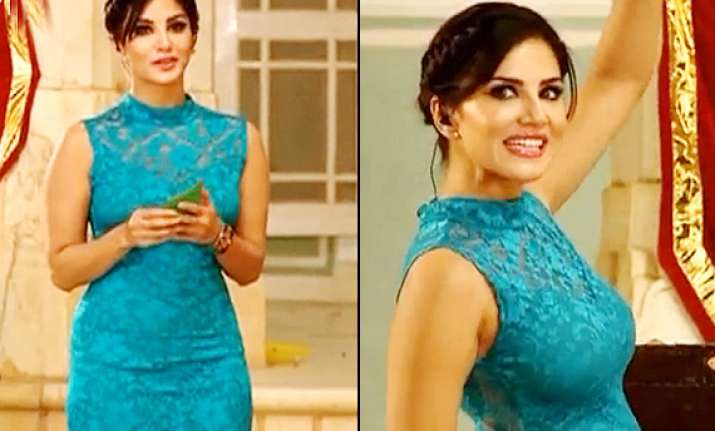 New Delhi: Sunny Leone once again scorched the TV screens as she hosted the Episode 2 of popular dating reality show, Splitsvilla 7. While hosting the show with Nikhil Chinapa, Sunny unlike her first episode's appearance looked a bit controlled and easy this time.
Though Sunny's hard Hindi speaking efforts are always visible for the viewers, this time the lady didn't try too hard and carried on with her seductive accent on the show.
The sexy lady, who has become an obvious core of fulcrum in Splitsvilla 7, continued hosting half of the show wearing a tiny bikini before adorning a sassy blue lace dress.
Though the episode 2 aired on Saturday witnessed the first elimination this season, Sunny's oomph and vigor kept the mood engaging throughout the show.
And for that rare highlight of the show, Sunny's extreme sensuousness in expressing the elimination task deserves a mention. While the respective contestants were waiting for their task being announced by Sunny Leone, there came a fascinating word attack in her tempting voice; as she said 'collect kisses from the boys.'
She even showed how to impress the boys with a dance that has to look sexy as part of an elimination task.
Splitsvilla 7 is reigning with hotness these days, as apart from the steamy female contestants there; alluring Sunny's presence can also be felt. And while the show is about 'fairy tale romance' this season, Sunny has been ardently deemed as the 'fairy' of the show.
Stay craving for more from Sunny Leone in the coming episodes of Splitsvilla 7.