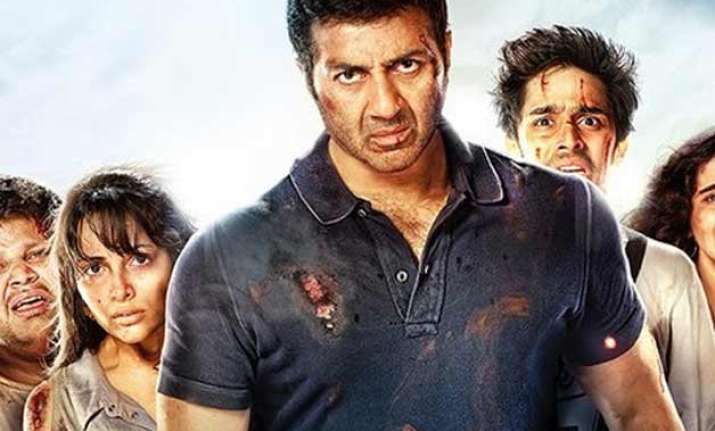 Sunny Deol, the real action Hero of Bollywood is all geared up for his next release 'Ghayal One Again', which hits cinema screens today.
The film despite some delay has hogged limelight for many reasons-firstly, Senior Deol has worn director's hat for the movie , secondly it is the sequel of his superhit Ghayal that earned him both national and filmfare award.
If Amitabh Bacchan is Bollywood's first angry young man, it was Sunny Deol who took this mantle from him in later decades.
Deol's anger reflected the collective angst of a nation that was deeply afflicted by the inherent corruption in the system.
Born on 19 October 1957, Sunny inherited his good looks and powerfully built physique from his handsome father Dharmendra.
His action packed roles backed by his damdaar dialogues sent the audience into tizzy. And when he kicked asses, it looked real.
At a time Khans were busy doing chocolatee roles, Sunny gave the Indian audience the much needed succour as an action hero.
Though Ajay Devgn, Akshay Kumar and Sunil Shetty brought martial arts to Bollywood but it was no match for Sunny's masculine and earthy action.
With patriotic films like Border, Gadar, Indian, Maa Tujhe Salaam, Hero, to his credit, Deol could also be called Bharat Kumar –II, a legacy carried by Manoj Kumar till 70s who was preferably less aggressive in dealing with enemies.
Critics may have reservations on Sunny Deol the actor, but the action star enjoys a dedicated fan following very few in bollywood can boast of.
As you brace yourself for 'Ghayal Once Again', Here we bring to you top 10 dailogues of Sunny Deol
1)  Ye mazdoor ka hath hai kaatiya (Ghatak)
2)   Ek Ek ko marunga (Ghatak)
3)   Dhai Kilo Ka haath ( Damini)
4) Taarik pe Taarik ( Damini)

5) Hindustan zindabad (Gadar- Ek Prem Katha)

6) Balwant rai ke Kutton (Ghayal)
7) Hindustan Meri Jaan - A scene from Movie Border

8) Barsaat se bachne ki hiasiya nahin ( Gadar-Ek Prem Katha)
9) Zindagi ka doosra naam problem hai ( Border)
10) Agar is choukhat pe baraat aai to doli ki jagah arthiyan uthegi