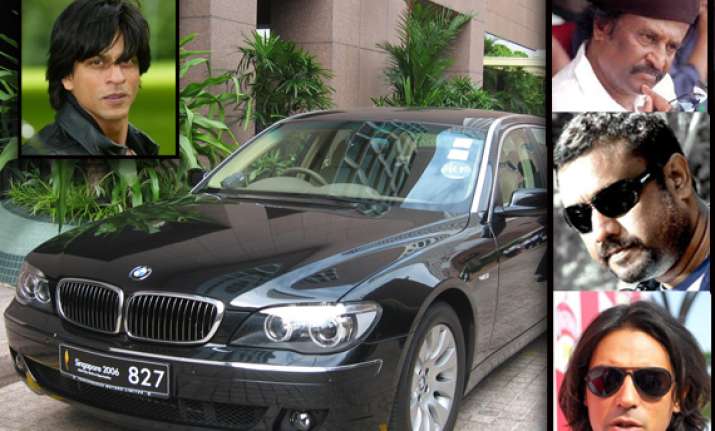 Mumbai, Nov 12: Bollywood Baadshah Shah Rukh Khan is going to gift BMW 7 series cars to RA.One co-stars Arjun and Rajinikanth, and director Anubhav Sinha, says a Mumbai Mirror report.

The report says, Shah Rukh recently ordered five brand new BMW 7 series sedans for those who helped him make RA.One.

The report said, the list of lucky recipients  includes Arjun Rampal, who played the title role, director Anubhav Sinha and the south Indian superstar Rajinikanth, who made a cameo appearance.

There are two more people on the gift list. However, no one is aware of SRK's plans.

The cars have already been booked with a local dealer. Once the delivery comes through, the gifts will be on their way.

Earlier, Shah Rukh had gifted Farah Khan a Hyundai Terracan during the making  of Main Hoon Na. He even gifted her a Mercedes during Om Shanti Om.

However, the report says, Anubhav Sinha currently needs a phone more than a car. While traveling in Los Angeles, he lost his mobile. The worse part of this is that the man who has found Sinha's phone is chatting to all the contacts on his list posing to be the filmmaker.

Says Anubhav: "I was in LA for the screening of RA.One and I stayed back since I wanted a break. While visiting a friend's place, I left my phone in the cab. After I returned to India, I was talking to this friend who told me that he had been chatting with me all this while. This was impossible since I did not have my phone."

On Wednesday, Shah Rukh told me that he spoke to me on chat. I was shocked. I don't know what to do about it now.

"I don't know who the guy is. There are so many actors on my chat list." "I just hope this person doesn't do anything stupid using my name", added Sinha.