New Delhi: Actor Shah Rukh Khan can be rightfully called the king of romance. His movies have served as an inspiration to boys, telling them never to leave a girl they love. Whether it was Raj in 'Dilwale Dulhaniya Le Jaayenge' who crossed borders to be united with his love Simran or the ardour with which he saw a rebirth again as Om to express his feelings for Shanti in 'Om Shanti Om.'
This particular incident just proves how much Shah Rukh loves love.
A teenage boy, Sarthak Kher, asked Shah Rukh Khan on Twitter in April for help in asking a girl out.

And as Shah Rukh is the master of wits he had a perfect response to it.

Months later in June, the boy posted a pic of his beloved date saying she said yes to him.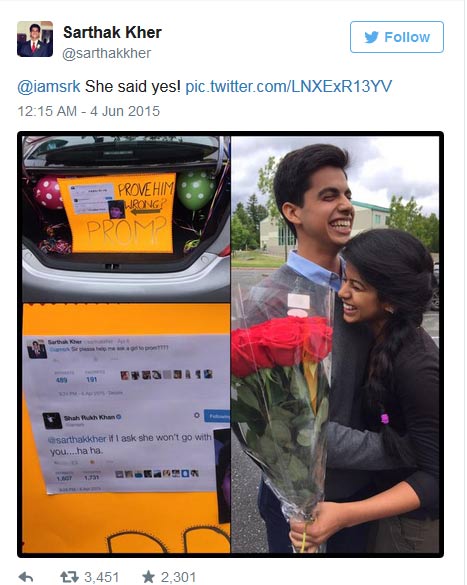 On 29th August, King Khan took time to give some profound advice to the boy. On his Twitter handle he gave him tips to take care of the girl.

Well, Sarthak Kher, if you have Shah Rukh Khan backing you up and giving you relationship advice, you couldn't ask for anything more.
While Shah Rukh has just finished shooting in Iceland with actress Kajol for Rohit Shetty's next 'Dilwale', his adorable gesture certifies why he rules the hearts of millions around the globe.