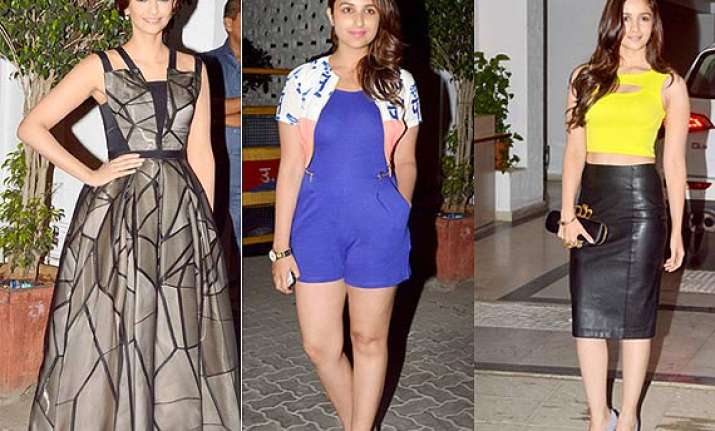 New Delhi: Parineeti Chopra and Sonam Kapoor may have recently fought a verbal battle on Karan Johar's show, 'Koffee With Karan', but it looks like both actresses have decided to move on and leave behind their bitterness.
In Karan Johar's popular chat show, Parineeti was quoted saying that "Deepika Padukone is the reigning queen of Bollywood, and that she would want to erase Ranveer Singh because of her love for Deepika."
She added that, "Sonam must start searching for other career alternatives."
Prior to that, Sonam Kapoor during her appearance the chat show passed a nasty remark during the rapid fire round, both on Parineeti and Deepika saying, that the 'Shudhh Desi Romance' actress should refrain from wearing body-hugging clothes and the Ram-Leela actress's overzealous PR team is the reason behind her increasing popularity.
However, some sources revealed a leading daily that, both actresses decided to patch things up during Karan Johar's birthday bash. "A few days ago at Karan's birthday bash, both the actresses caught up with each other. Although they had passed some comments against each other on the show, it was Parineeti who made the first move and spoke to Sonam. Later on, they were seen having a long chat".
On the other hand Sonam has always shown her fondness towards Alia Bhatt and so does Alia loves Sonam. In fact Sonam was quoted saying that Alia makes her want to direct.  Now this new budding friendship might take a toll on existing ones.
An onlooker at the party says, "It was graceful of Parineeti to go and start chatting with Sonam. Sonam too seemed to be enjoying her company. Their conversation was mostly about fashion and Parineeti even complimented Sonam on her various red carpet looks at Cannes. They exchanged phone numbers and are said to be in touch."
Here we can hope that this new found friendship doesn't harm the existing ones.