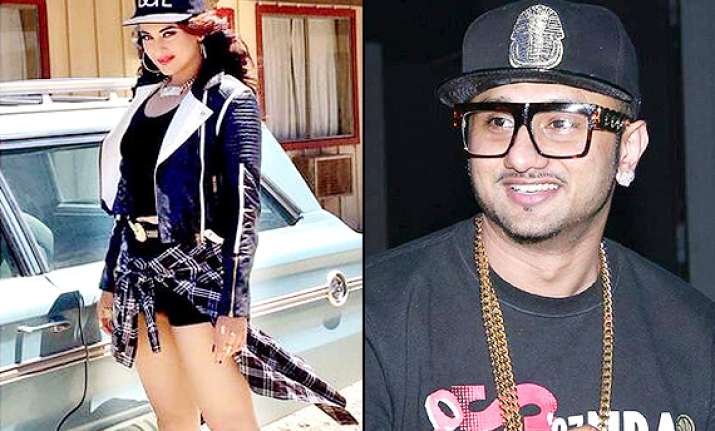 New Delhi: Sonakshi Sinha would next be seen in her fresh slimmer frame with none other than the popular rapper-singer, Yo Yo Honey Singh.
The singer who recently came out with his 'Issey Kehte Hai Hip Hop' is shooting for yet another video song starring Sonakshi Sinha in it. The actress took it to twitter a few minutes ago to reveal her look in the video.
Sonakshi, who is busy shooting for 'Tevar' with Arjun Kapoor posted a picture of her and wrote, "Issey kehte hai hip hop hip hop!! Mera hip hop avatar @asliyoyo ke SUPERSTAR video ke liye... What do u think?"
The curvaceous actress can be seen donning a crisp hot pants with a checkered shirt tied over it, a black camisole beneath a biker jacket and an interesting cap.
Honey Singh's 'Issey Kehte Hai Hip Hop' has already garnered myriads of rave eye balls. Now, whether the popular youth icon is thinking on making another version of 'Issey Kehte Hai Hip Hop' by roping Sonakshi Sinha or not, is still under the wraps.
But, Sona's look for the video seems surprisingly appealing. Her gracious expressions are adding to her never-seen-before appearance.
Both Yo Yo Honey Singh and Sonakshi Sinha had earlier worked in 'Party All Night' along with Akshay Kumar in his 'Boss.'
Well, we are up for this 'hip hop' avatar of Sonakshi, what are your views?