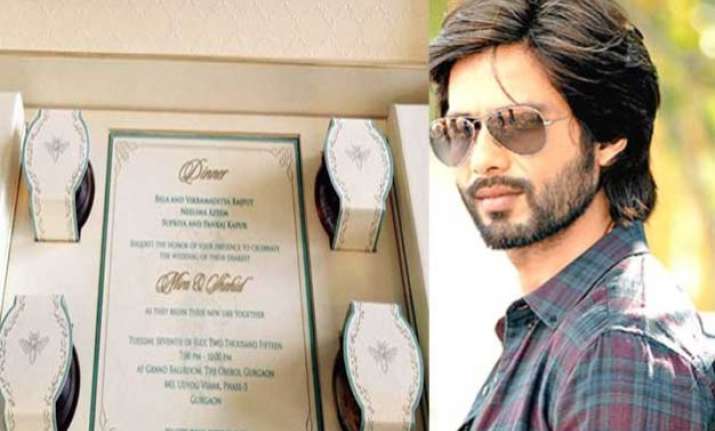 New Delhi: Shahid Kapoor and Mira Rajput's beautiful wedding card made us fall in love with the idea of marriage. The sheer elegance and simplicity of the wedding card not only amazed us but also garner utmost media attention.
And before we could come out of the hangover, there comes another interesting detail tickling in about the wedding invitation of the much-awaited marriage-ceremony of B-town.
Ravish Kapoor, who designed the invitations for IIFA, is the man behind Shahid's invitation card. But little to our knowledge, the Haider actor gave many personal touches to his wedding card.
"Shahid was very particular about everything – font, colour. He doesn't like Gold and he had told us to use minimum of Gold. So if you notice, we have written only his and Mira's names in Gold. Then, he was the one who suggested us to keep tea in the box. His father Pankaj ji is like a connoisseur of tea, so we discussed with him too," revealed Ravish.
Shahid met with Ravish at the IIFA and from there the duo got in the business of designing the special card. There are several little yet sweet details asked for by Sasha to be included in the wedding card.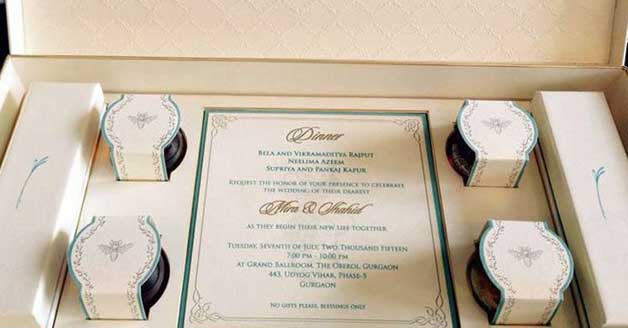 "When we were designing the card, that day only he told us. 'Both are my mothers and both names should be there.' He also said Neelima ji's name should be above and then Supriya ji and then Pankaj ji.
In fact, earlier we had planned to design a logo and place it near peacock on the front cover. So I kept "S" above "M". He didn't like it. He said, "Either 'S' and 'M' should be at the same level, or 'M' should be above," added Ravish.
Well! We must say Mira is a lucky girl to get such a sweet and loving person like Shahid Kapoor as her husband. We wish all the best to the lovely couple for their future life.
And yes! We are desperately waiting for the marriage ceremony on July 07.