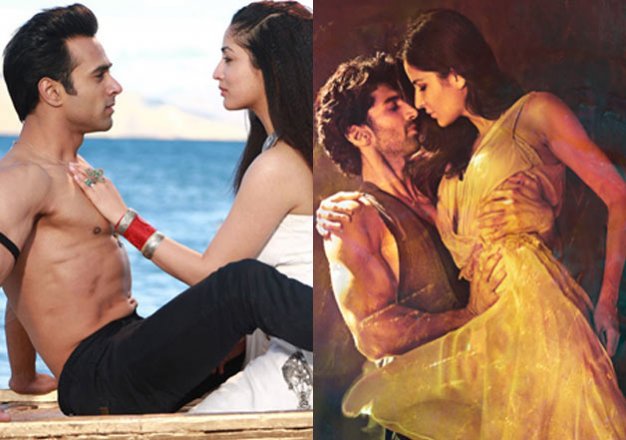 New Delhi: The box office clash of 'Sanam Re' and 'Fitoor' had created quite the buzz around it. Despite not being the first clash of box office in 2016, it grabbed a lot of attention, primarily because both the movies were of the same genre- romance.
While 'Fitoor' had abundance of a stellar cast, it lost the first day battle to 'Sanam Re'. Trade analayst Taran Adarsh tweeted the collections of both the movies on first day, and the Yami Gautam- Pulkit Samrat starrer has earned close to Rs 2 crores more than Katrina Kaif- Aditya Roy Kapur's film.
Here's what he tweeted:


Undoubtedly, Sanam Re has pulled off a big surprise. It saw a healthy occupancy of 35-40% and the fact that it is a working day adds to the achievement of the movie.
It can't be discredited that 'Sanam Re's' success is owed to the masterstroke of T-series, the production house. Before the big day, T-Series' head honcho Bhushan Kumar told a leading entertainment portal, "Usually a romantic film sees a release across 1200 to 1400 screens; however with Sanam Re we will see a release across 2000+ screens because of the demand for it."
He added, "With 2000+ screens Sanam Re will feature 7000-8000 shows across India which is really big especially for a romantic film. Besides this we have also been receiving good feedback from single screens, which is obviously good."
'Airlift' had released in 1800 screens but 'Sanam Re' was allotted more screens than the Akshay Kumar starrer. On the other hand, 'Fitoor' released in 1225 cinemas in India.
Not only 'Fitoor', 'Sanam Re' also went head on head with anti-superhero film 'Deadpool'. However, being rich in romance content, it attracted a greater footfall.
Taran Adarsh also pointed out that 'Fitoor' will need a huge jump at the box office in the coming Valentines' weekend to post a decent weekend. With the first day collections being in favour of 'Sanam Re' only time will tell how the weekend takes shape for both the movies.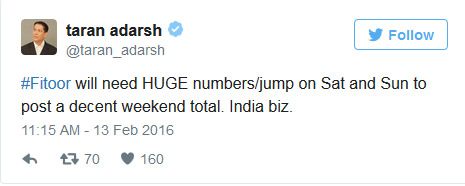 It is also worth noting that both the movies opened to mixed reviews. While 'Sanam Re' is being refereed to as tolerable by many critics, 'Fitoor' also drew appreciation for being a visual delight. At the end of V-day, let us see who takes the lion's share of box office home.