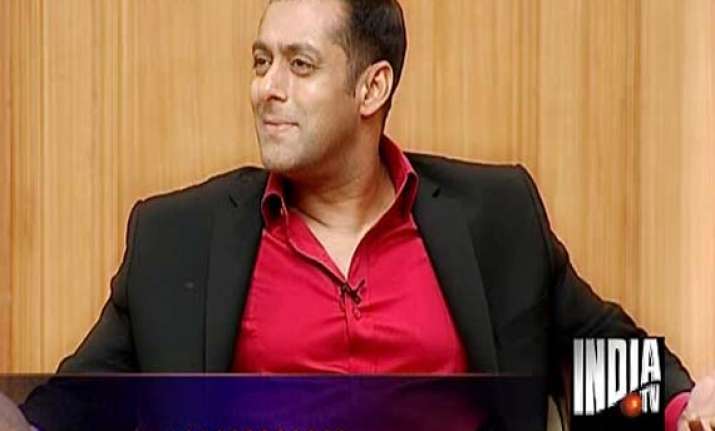 New Delhi, Dec 22: Bollywood star Salman Khan has said that he would marry only after the courts in Jodhpur and Mumbai give their verdicts in the blackbuck and vehicle mishap cases. 
Replying to queries from
Rajat Sharma
in India TV's show Aap Ki Adalat, Salman Khan said: "Inshallah, I hope to be acquitted in both cases, but if I marry before the verdicts, will it be fair?
"Suppose, if there is a turn of events and I am sent to jail, and my wife has to come  with our child to meet me in jail, will it be fair?
"I will think about marrying only after the courts give their verdicts. If the verdicts go against me, I will marry only after coming out of jail", the actor said.  
Salman was asked about doctors advising him not to do action sequences any more as he was found suffering from  trigeminal neuralgia.  
The actor replied in detail about the blood clot in his brain.  
"There are two options. If there is a surgery there could be loss of sight and loss of balance. The surgery could then prove negative.  I have chosen the other option.  
"I admit there is a problem, but Inshallah everything will be fine. Doctors have advised me not to action sequences and avoid anger to keep my BP in check.  
"But if I am totally unable to do action sequences, then I will stop doing films. After all, the audience pays money to watch my action", the actor said.  
Salman Khan admitted that he did a scene for Ek Tha Tiger in almost zero temperature in Dublin wearing only a T-shirt.
On his Dabangg success, Salman Khan said, "at present our destiny appears to be strong. Even the work done by others (Fevicol Se song) goes to our credit."
India TV will telecast Aap Ki Adalat with Salman Khan on Saturday (Dec 22) at 10 pm and on Sunday (Dec 23) at 10 am and 10 pm.