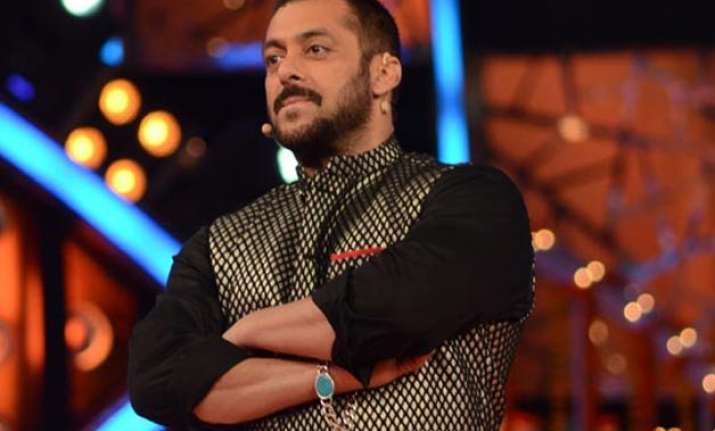 New Delhi: Bollywood superstar Salman Khan is the most favourite child of the media. The actor knows it well how to make it to the headlines.
The 'Bajrangi Bhaijaan' star is quite popular for his disarming candour and unabashed straight-forwardness.
His candid nature is quite evident on the reality show Bigg Boss 9 where he is seen as a host. In the weekedn episodes, Salman often ends up pulling legs of the contestants.
However, this time the 'Kick' star has opened about himself and his life.
Salman's personal life has always bagged a lot of attention and everyone knows how close he is to his sisters.
But, there was a time when the actor's little sister has threatened to disown him as brother.
Shocked? Wondering how can someone think of disowning a doting brother like Salman?
Well, this is true and the confession was made by Salman Khan himself.
While talking to a leading daily, Salman Khan was quizzed about the his tag of being a universal 'bhai'.
That is when Salman stated, "Areh yaar, main wohi pe maar kha jaata hoon! (Laughs) Bhai has started from Sohail. As soon as the levels started increasing, they started calling me Bhai. But the younger generation, the kids, they call me Salman! They call me Salman Khan. They don't call me Bhai-Wai. It's the older generation who calls me that and I'm like, 'Tum log kyun Bhai bula rahe ho mujhe?' But previously, Bhai was in a very negative connotation. Today, the word Bhai means someone you can look up to, someone who can show you the right path. So if I can stand up to that, there would be nothing better than that. My sister told me that if you don't stand upto the respect the fans have given you who call you Salman bhai, I will disown you as a brother. And that's my only goal right now. To see that my sister doesn't disown me".
He also revealed some more details about himself which no one knew about. And one of it was that Salman falls asleep during his own film screenings.
"Honestly, log pitenge mujhe iske baad. But I sleep during my own films. At all my screenings, I end up falling asleep. And this also means that I fall asleep in others' films too," said Salman to the daily.
He was later quizzed about his professional life asking if there's any genre he would like to try next. To this he replied, "Yes. I would love to do romance. Both on screen and off screen".
Currently, Salman is busy shooting for his forthcoming movie 'Sultan' opposite Anushka Sharma, which is expected to hit the screens on Eid this year.