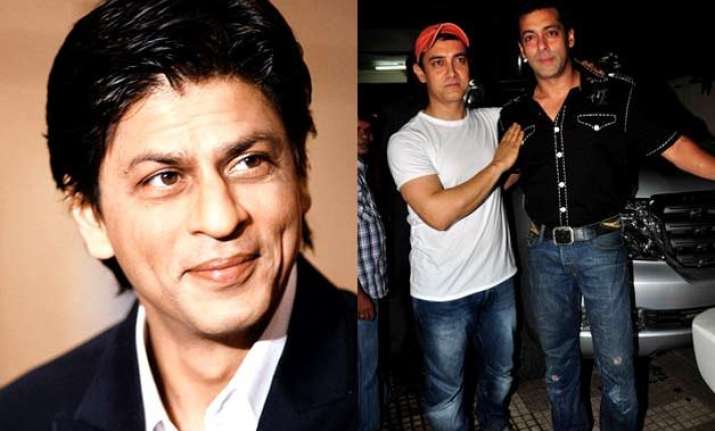 New Delhi: US president Barack Obama reproducing super star Shah Rukh's epic 'Senorita' dialogue has not gone down well with at least fans of other two khans namely Salman Khan and Aamir Khan.
At Siri For Auditorium Obama picked a dialogue from Badshah khan's DDLJ "bade bade shehron mein….U know what I mean," left the social media buzzing and King Khan was  thrilled that he wished the US President to dance at 'Chaiya Chaiya' song the next time he visits India.
"Sad he couldn't do the Bhangra...next time Chaiyya Chaiyya for sure," SRK tweeted.
However picking 'Baadhah' Khan's classic dialogue has also stirred a cynical debate as some fans feel Obama was not being fair for not quoting any dialogues from the 'bhai' of Bollywood Salman Khan's or Mr Perfectionist Aamir Khan's flicks. They smell a conspiracy behind Obama's underlining only King Khan's dialogues.
Nobody knows what Salman and Aamir would be going through after the US President's speech but Salman Khan's fans must be surely disappointed. Couldn't he have used 'Ek Baar jo maine commitment kar diya, uske baad to main apne aap ki bhi nahi sunta' from action drama 'Wanted' or some other dialogue from his other flicks.
The 'Bhai key fans' are confident that there are better lines than that of SRK's and so they feel betrayed and cheated. They are also suspecting that Obama's dialogue delivery was compensation for every time Shah Rukh was stopped at the US airport.
On the other side, Aamir Khan is so miffed by the speech of Obama, who also sidelined his efforts in raising issues in Satyamev Jayate that he is planning to make a sequel of PK. In PK 2 he will land on the earth of America and explore the reasons behind such weird choices by the natives their.
In his Siri Fort speech, the US President also made another reference to Shah Rukh when he said India should celebrate its religious diversity represented by icons from various fields like him, Mary Kom and Milkha Singh.
Now how is it fair towards the two other Khans, in anyway?