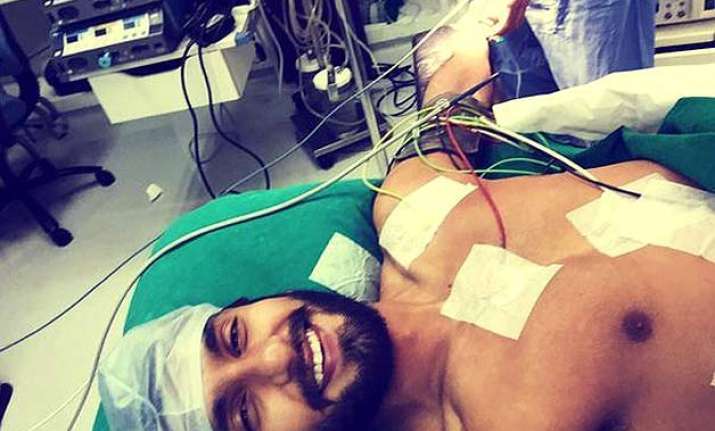 Ranveer Singh's another quirky act, tweets his surgery step by step
New Delhi
: Ranveer Singh is one of most twitter-friendly Bollywood actors - which can be often made out through his various acts on-screen or off-screen. The actor who's been dealing with lot of injuries lately was in for a quick surgery yesterday in Mumbai.
Ranveer has been spotted lately wearing an arm bandage due to his shoulder surgery which he got while shooting for Bajirao Mastani in Jaipur.
Bollywood's 'moustache' dude has been quite open about sharing his injury updates with his fans and well-wishers, so when it was time for his surgery - he couldn't keep them out.
Ranveer posed for a quick 'selfie' from inside the operationg theatre, right before he was given anesthesia by his doctor. Before posting his selfie, Ranveer had been giving out live-updates like,
Ranveer Singh @RanveerOfficial: "About to get knocked out!"
Ranveer Singh @RanveerOfficial: He injected my neck ! Whoa!!."
As per reports from Indian Express, the actor allegeldy dating Deepika Padukone has been admitted at the Hinduja hospital in Mumbai, and underwent a shoulder surgery around 8 am yesterday.
Following the surgery, Ranveer has been advised to take complete rest and undertake a three-week physiotherapy treatment. Ranveer Singh might return back to his working schedule towards first week of May.
Ranveer Singh incurred this injury while shooting for Sanjay Leela Bhansali's Bajirao Mastani.
The film also stars Priyanka Chopra in another pivotal role.