Follow us on New Delhi: The dashing duo of Ranveer Singh and Arjun Kapoor has always grabbed eyeballs thanks to their spectacular bonding. These young actors have gone past all the insecurities that generally exist between other actors and have broken the existing notions.
However, it's not easy for the actors to take out time for each other given their tight schedule and other commitments. And it seems like Arjun Kapoor is a little upset that his 'Gunday' co-star is not being able to take out time for him.
It all started during a twitter conversation between Ranveer and his fans when somebody asked him the reason why he is called the Baba of bollywood to which he replied; "@ajay_lotlikar thanks to @arjunk26 who has no time for me these days *heartbroken* #MalhariVictorySong.
And then Arjun came up with an instant reply and said; "Baba I always have time for u…u are my jigar ka tukda…Lekin tunay Mastaani se mohabbat ki hai mujhse nahi !!!"
Now this may be a hint of growing distance between the two stars. But these two have always defied conventions and continue to do so. Seeing his friend complaining, Ranveer went all out to make it up for Arjun.
He posted a dubsmash video on the song 'Ghar Aaja Pardesi' with Ayushmann Khurana addressing it to Arjun Kapoor who is currently shooting in Arjentina for his reality show Khatron Ke Khilaadi.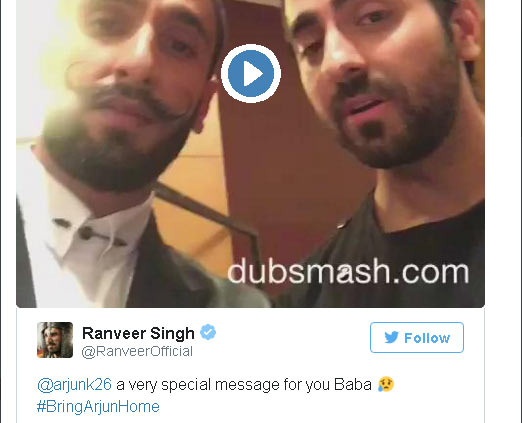 It's an extremely endearing gesture on Ranveer's part and we don't think that Arjun will still have a reason to complain.
Watch the dubsamsh video right here.