Follow us on Ranbir Kapoor-Anushka Sharma at India's Got Talent to promote Bombay Velvet
New Delhi
:
Ranbir Kapoor
might be garnering raving anticipation for his performance in upcoming '
Bombay Velvet
,' but this is just not it!
The actor has incepted upon the film's promotion with co-star Anushka Sharma. And the two are making sure to roll every stone to make their film a tremendous success.
Apart from their chemistry, the easy-stylish appearances of Anushka Sharma are too surfacing the waves in the style zone these days.
While the actress is making sure to look uber chic and completely intriguing, Ranbir seems no less too.
Al though the Bollywood heartthrob is dressing according to 80s fashion, we have spotted a distinct something.
You might not have seen this or noticed earlier. But, the man terribly in love these days with Katrina Kaif has got a new tattoo.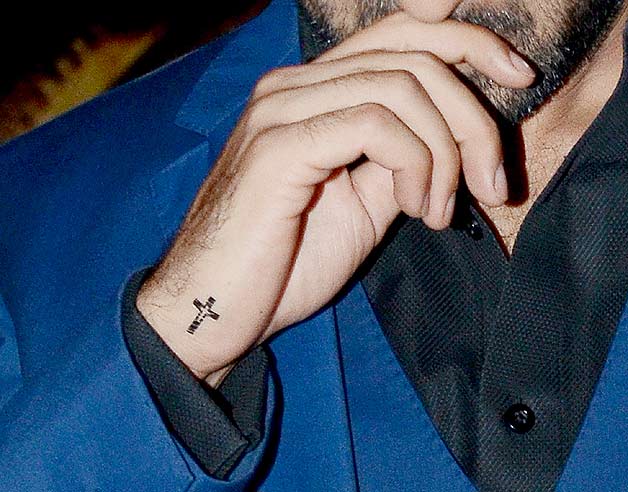 Ranbir has got inked and made a cross on his right wrist, just below the little finger of his right hand.
The small, 'cross sign' is coming as quite prominent. With so many new stories comprising the air around Ranbir-Katrina's relationship, this tattoo just adds fuel to the fire.
For that quick notification, Katrina Kaif follows Christianity. And while we are not diverting the attention towards religion differences between the two, but taking it as a gesture of utmost respect of his beloved's faith.
Moreover, keeping everything apart, the tattoo in itself is a wonderfully carved one.
With the wedding on cards in November soon, we appreciate such cute tactics by Ranbir to woo his lady love.
All we can say is that's what you call a perfect 'stylish love! '