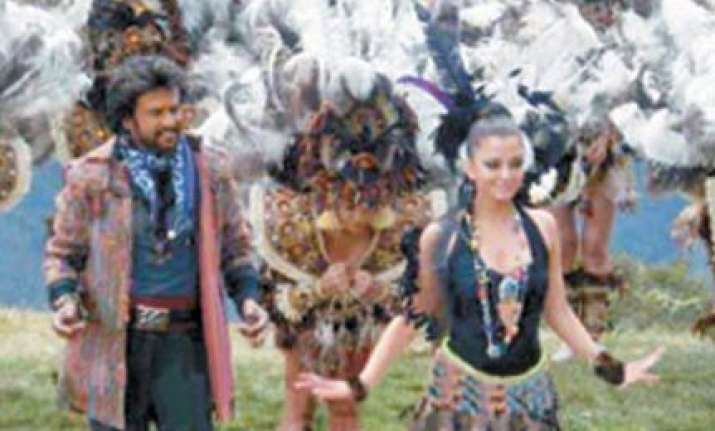 Mumbai/Chennai 'Robot' the mega-budget, sci-fi film which marks the return of Tamil superstar Rajnikanth to the big screen after a gap of two years, released on Friday to packed housed amid fanfare and frenzy.
The film which released as 'Endhiran' in Tamil and Telugu, released in 3000 screens worldwide and the opening in Chennai was marked by die-hard fans performing pujas to cut-outs of their screen idol and bursting crackers.
Starring Bollywood beauty Aishwarya Rai opposite the 60-year-old actor, the film opened to a "superb" response, industry sources said adding tickets had been sold out for the next 10 days.The film directed by Shankar has been touted as one of the most expensive ventures in Indian cinema, with a reported budget of Rs 150 crores.
Celebrating their icon's latest release, Rajni fans queued up hours in advance for tickets, as they had been eagerly awaiting the release of the film, which was two years in the making.The film released in three languages, Hindi, Tamil and Telugu and producer Kalanithi Maran had launched an aggressive marketing blitzkrieg to promote it.
Shankar expressed relief at the positive opening of the film and said that the crew had done a lot of hardwork to film which sees Rajni in a new avatar as a robot.Enthiran is Shankar's second venture with the superstar after the blockbuster "Sivaji -the boss".'Robot' released in 1,000 screens in the Hindi market on Friday.
Tolu Bajaj, who has distributed 'Robot', said that the film has been released in 1,000 screens across India. "I am distributing the Hindi version and the response from exhibitors has been good," he said.Girish Wankhede of Cinemax chain of multiplexes said the movie saw 10 to 15 per cent occupancy in the morning show.
"There is not a frenzied response like in Chennai. But, I am confident that the collections will pick up through word of mouth. We are positive about the Box Office collections," he said.
At recently refurbished Arora theatre in Matunga, central Mumbai which comprises a sizeable chunk of Tamil population, huge cutouts of the superstar were seen with several fans thronging the theatre to watch their idol's latest venture.