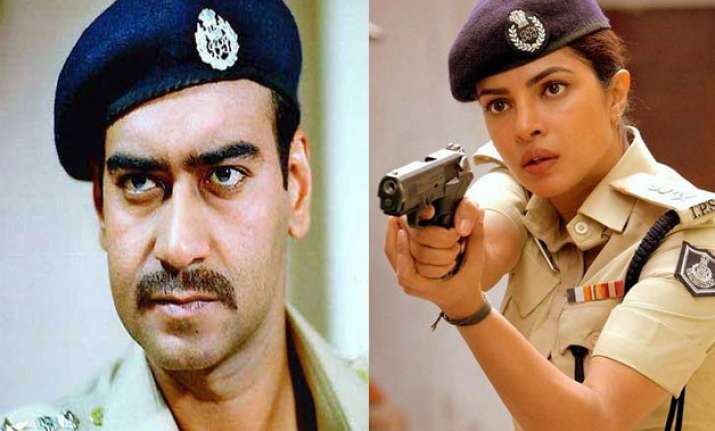 New Delhi: Ever since Prakash Jha announced the sequel to his much appreciated movie 'Gangaajal', there has been a sense of anticipation about this flick.
Soon, it was announced that Priyanka Chopra will be playing the lead role in the sequel called 'Jai Gangaajal'.
So far PeeCee has given several commendable performances, but when it comes to action sequences the take on seeing a diva as an 'action hero' is quite different.
Although, Priyanka has always justified her action roles pretty well, be it in 'Mary Kom', 'Don' or 'Drona', but ever since she was signed for 'Jai Gangaajal' everyone is sceptical about if she could do justice to the movie.
In fact, she has been often compared to Ajay Devgn who has played the lead role in 'Gangaajal'
So when, PeeCee was quizzed about her comparison with Ajay, she stated that it is unfair to make comparisons.
"Not at all yeah! Nobody can be Ajay Devgn and it is unfair to make comparisons. They are totally different characters. I am happy that Prakash Jha thought that I was bold enough to take ahead the legacy. I hope I have live up to it," Priyanka told a leading daily.
The 'Barfi' actress also revealed that how her previous action movies helped her prepare for her role in 'Jai Gangaajal'.
She stated, "I think my characters from Don, Drona, Mary Kom prepared me for any kind of action, whether it was Quantico or Jai Gangaajal. I am quite well-versed with action because I have done so much of it in the past. Shyam Kaushal and I have worked together before but still we used to do some rehearsals for this one. The action in the movie is very raw and real and not fashionable."  
Interestingly, director Prakash Jha will also be sharing the screen space with Priyanka Chopra in 'Jai Gangaajal' which will hit the theatres on March 4, 2016.