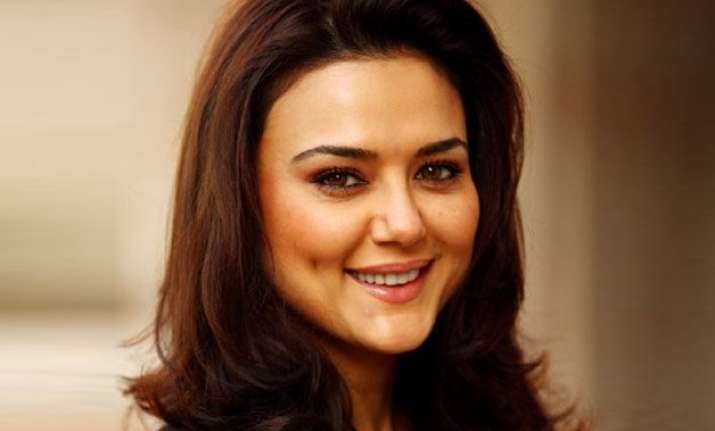 New Delhi: Bollywood star and a strong headed beauty Preity Zinta who went through a rough personal phase last year in 2014 has finally spoken her mind about her relationship with the Wadia scion and her team - Kings XI Punjab.
Preity Zinta created a stir in the media, when she lodged a complaint against her high-profile beau Ness Wadia in 2014, the entire incident was blown out of proportion, but Preity moved back to her work and Ness didn't speak about it.
But today, Preity has come over it and has finally spoken her mind to Times of India. The Veer Zara star claims that it is not her cricket team - Kings XI Punjab that should actually make news, but it is her personal life that grabs headlines, "If I hug somebody , there's something more to it. Always. Our Prime Minister hugged the American president recently. So is there a relationship between them? After Knight Riders first won the title, Shah Rukh Khan had his legs wrapped around Shoaib Akhtar. So? "Just because I am a woman?" Her franchise - co-owned by Wadia and Dabur's Mohit Burman - has made a good profit - estimated to be around Rs 14 crore - this season."
"It's been a rarity of sorts in the IPL for franchises to be breaking even every year and it's certainly something the team can be happy about." We once made a small profit in one of the seasons gone by but that time we were so tied up with all the court cases, the bank guarantees and all. This time, we could make some money," adds Preity.
While expressing her thoughts on the discriminatory behaviour of media towards her she states that apart from making news on her relationship status, how media has been making stories that she has gone bankrupt. "I still live in the same house, but has anyone bothered to check? It's just like how one reputed newspaper published a story a couple of years back that our franchise had been sold to the Hero Group and didn't even bother to ask us before coming out with the story . People just say whatever they want and get away with it."
Despite all this, Preity makes a dignified statement on her relationship with Ness, she says, "What happened between me and Ness was unfortunate. But the franchise is my baby and there's no question of me cutting of my involvement with it."