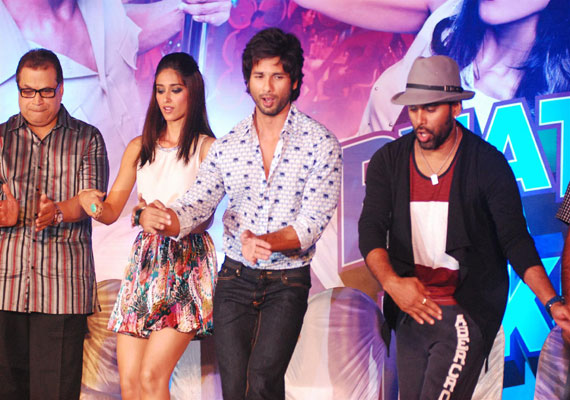 New Delhi, Jul 28: The cast and crew of the Bollywood action comedy 'Phata Poster Nikla Hero' made their presence felt at the maiden screening of their movie in India's showbiz capital Mumbai on Friday (July 27).
 Among those attended the gala event were the chocolate boy of the film industry, Shahid Kapoor, and one-film-old model turned actress Illeana D'Cruz, who are the lead actors of the movie along with the director, Rajkumar Santoshi.
---
 Santoshi said that the movie is a light-hearted comedy appropriate for people of all age groups. He added that the movie has no vulgarity or obscenity.
"The film is entertaining with a lot action, romance and comedy. It is a wholesome family entertainment movie. There is no vulgarity in the movie, just like there is no vulgarity in any of my films. Even the comedy is not cheap and the movie does not mock anybody.
It is a very healthy film and a wholesome family entertainer. So I am quite sure that people from all age groups will like the film," said Santoshi.
---
The movie is about a small town boy, Vishwas Rao, who dreams to be an actor and is a die-hard fan of the Bollywood superstar Salman Khan. But, his mother wants him to be a police officer. Rao is mistaken as a super policeman and the story follows.
As for the storyline, Kapoor clarified to say that the movie focuses more on the fake policeman than the struggling actor.
He also said that his fondest memories date back to the time when he himself was a struggling actor.
"Actually in this film the struggling part is more like a back story and I think what you will see a lot more is the fake cop than the struggling actor. So whenever anybody asks me this question I always like to clarify that because there are not much scenes about the struggling actor part in the film.

---


There maybe one or two scenes but 75 percent of the film's angle is about the fake cop because he gets stuck in that situation which is what was new in the film for me. And I have had my struggling days and I am very proud of my struggling days because they are probably the fondest memories of my life.

There are so many memories attached there but in this film it is more about the struggling cop, Vishwas Rao, than about the struggling actor," said Shahid Kapoor.
Salman Khan will be seen doing a cameo in the movie.
The film is produced by Ramesh Taurani and is expected to release on September 20, 2013.