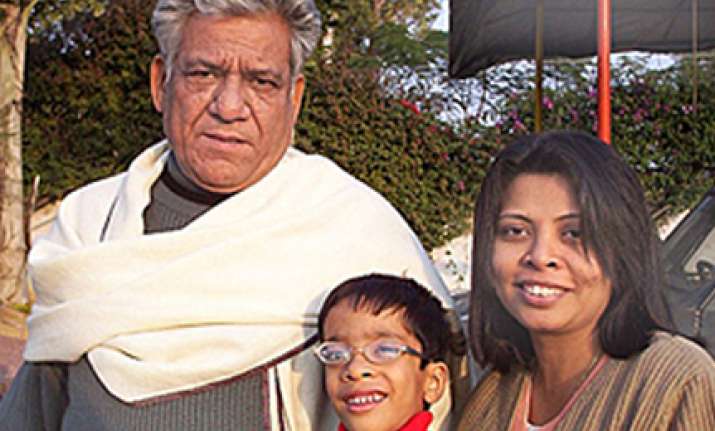 Bollywood character actor Om Puri's wife  journalist Nandita C. Puri has tracked down all ex-flames of her husband to get their side of the story.
Nandita's " startling revelations" on her husband — Unlikely Hero: The Story of Om Puri (published by Roli Books) — will be released next month in Mumbai by Amitabh Bachchan, reports Mail Today.
Though Nandita is reluctant to name the women — all she says is there are " passing references" to some Bollywood actresses — she offers a tantalising teaser.
"After people read about Om's past, Shiney Ahuja will look like an angel," she says, insisting people should see her work as that of a biographer and not a doting wife.
 "The mask of Om being a serious actor will slip." Who said serious actors are not vulnerable to the tugs of the heart? " Everyone has a story," Nandita says. " Everyone is a chhupa rustam. " But it wasn't easy meeting her husband's exes.
"Om was very frank when he told me about them, but I had to get their point of view," Nandita says. She drew up a list of the women.
"Some had relocated, one wasn't too well, some were nice and forthcoming, but the others were pretty rude. They said, ' Who the hell are you? We can write volumes on Om'."
Nandita hasn't veiled the identities of the women in her book. "There's no point in writing a biography without names. I might as well have written fiction then," she says.
But Om hasn't been allowed to read the biography. "He has been telling me I have stripped him, that I'm the writer and he's the victim," jokes Nandita.
Om Puri says, " People have a certain image of Om Puri. Let them see the other side of Om Puri."
The biography has anecdotes and interviews of many international stars with whom Om has worked with, notably Attenborough, Nicholson, Ben Kingsley, Patrick Swayze, Mike Nichols, Val Kilmer and Tom Hanks. Swayze was very keen to read the book, but passed away before it was ready, says Nandita.
Derek Malcolm, the Guardian's former film critic, and Naseeruddin Shah, one of Puri's oldest friends, have also written in the book.
Nandita's research on Puri started in the early 1990s, when she was a reporter with a Kolkata daily and had interviewed the actor when he was working for the City of Joy (1992). The two married soon after.
 "Om told me to take a break and write his biography," Nandita recalls. " I thought the burden of a biography was daunting for a cub reporter."
Almost 10 years later, Nandita picked up the project, but decided to give the biography that extra edge. In between other projects, which included her book Nine On Nine, Nandita researched Puri's life, especially his childhood, and read lots of biographies.
  "By 2007, I was able to distance myself from the subject and approach it as a writer," she says.