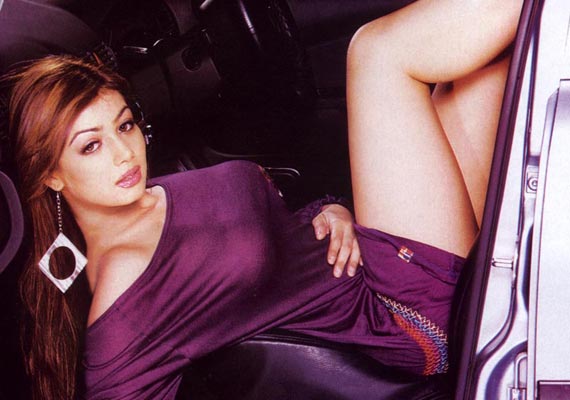 Mumbai, Aug 31: Best known for her performance in 'Dor' and Salman Khan starrer 'Wanted', actress Ayesha Takia, who will be seen in a new avatar as a host on singing reality show, says her Bollywood career is not over yet.
Ayesha is making her debut on small screen as the host for singing reality show 'Sur-Kshetra' that would have a mix of both Indian and Pakistani singers.
After making her debut in Bollywood in 2004 with 'Tarzaan - The Wonder Car' that got her the best debut actress award, Ayesha did several films like Imtiaz Ali's 'Socha Na Tha', 'Dil Maange More' with
Shahid Kapoor
and later Nagesh Kukunoor's critically acclaimed 'Dor' (2006) and commercially successful film 'Wanted' (2009).
"Right now I have not signed any film. I am just trying to understand and experience few things about me and about my life. I don't think as of now films fit into it. I can't say that I am putting a full stop to my career in Bollywood. It is like never say never," Ayesha told PTI in an interview.
"Movies take lot of your time from making to promotions. Today I can do my business, enjoy my family life, travel around. I have been doing films for quite some time, now I want to do something different," she said.
Ayesha and Nagesh Kukunoor share a close bond and she insists that if Kukunoor offers her a film that is different, she will do it.
"If a friend like Nagesh wants to make something like 'Dor', I would love to be a part of it. I am not putting a full stop to my Bollywood career...like a rule.  I am open to doing it (films), but may be in the future," she said.
She is happy that audiences still remember her for her performance in 'Wanted' opposite Salman Khan.
"'Wanted' was my career's biggest hit and I am elated that people still remember me for the film...also for 'Dor' that showed everyone that I can act. I have a great combination of things in my filmi career," the actress said.
"I had a great experience working with Salman. He is great and is really doing good work these days. I was fortunate to have worked in this film," she said.
Meanwhile, the singing reality show 'Sur Kshetra' has two captains -
Himesh Reshammiya
for India and Pakistani pop sensation-actor Atif Aslam, who would be grooming the contestants from their respective country.
The show will be judged by Asha Bhosale, popular Pakistani singer Abida Parveen and noted singer Runa Laila from Bangladesh.
"When I was asked to host I was terrified, I was like how will I do it as there are esteemed judges and captains in the show. They told me there is no script and I have to be myself. So that was the main reason for me to say yes as people...the audience will get to see the real me," Ayesha said.
On if she would root for Indian or Pakistani singers, Ayesha said, "As a host I am a neutral person there. There is lot of tension as there are singers from India-Pakistan. But it is all fun and healthy competition. All contestants are young and they are getting groomed by the captains. I had a blast during the show," she said.