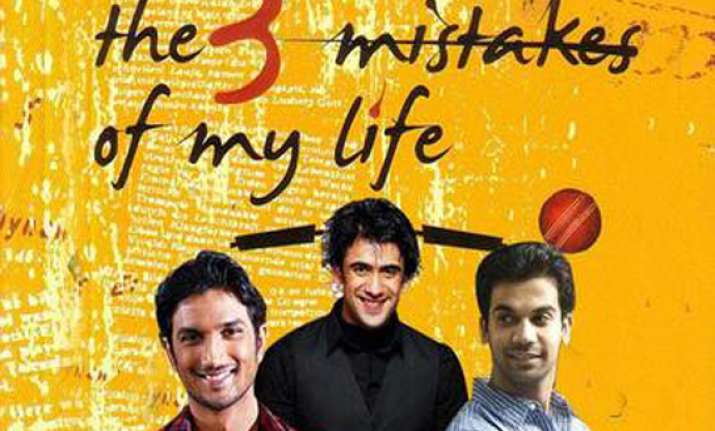 New Delhi: Director Abhishek Kapoor, who is adapting Chetan Bhagat's book "3 Mistakes of My Life" for the big screen, says leading Bollywood actors refused to be a part of "Kai Po Che" because it is a multi-starrer. 
The film stars Sushant Singh Rajput of "Pavitra Rishta" fame, "Love Sex And Dhokha" actor Raj Kumar Yadav, TV actor Amit Sadh and "Aisha" actress Amrita Puri.  Kapoor said he initially approached few big stars for his movie but was turned down by them because they didn't want to star in a three hero film.
"Initially I tried to get some big names on board but they all had some apprehensions because they didn't want to work in three-hero film. Especially the younger lot as they are so vulnerable - they think 'If I do this film then what will be my future?'," Kapoor told PTI.  
However, the "Rock On" director is glad he didn't spend much time running behind the stars and is satisfied with his choice of actors.
"I wouldn't change the script to suit anyone. They are three friends and they should be equal. It should not be that one is a hero and other two are flunkies. Big actors are not authorities on what is a good film or bad film.
I can't decide my career trajectory based on what stars want.  "If you want to work with stars then you should make movies which they like... I want to make movies which I like.
I can't do everything for money and short term. I would like my movie to be appreciated 50 years down the line," he said.  The film is set in Gujarat and follows the story of three boys - Ishaan, Omi and Govind.
Kapoor said that although the movie is based on Bhagat's novel he has changed about 50-60 per cent of the story line.  "It is based on Chetan's book but to change a book to screenplay is a huge process. The adaptation takes a while and a lot of changes are made."
"I would say about 50-60 per cent is changed but the characters and the heart of the film is still the book.  Cinematically I felt it is a good opportunity for me to tell an already told story and add value to it," he said.  
Kapoor also said unlike many other directors who are running behind the 100 crore club he has no interest in it and thinks the whole thing is a big joke.
"The 100 crore club is just a joke... 100 crores is just a standard now. Its not that the films are great, they have just opened well. The weekend collection is not the only thing. I work hard on my stories and films so I would want them to be seen by people across and not just crash after the weekend. So actually bad films are doing 100 crore," he said.
The filmmaker, who is returning to the director's chair after a gap of three years, said he was in no rush to make another movie after the success of "Rock On".  "I actually took a very long holiday after 'Rock On' and I was in no rush to make another film.
I don't feel that insecurity may be because I have seen so much failure that I am not worried what will happen to me if I don't make one film every year. This is the privilege of being self employed." Kapoor, who started his career with acting in "Uff! Yeh Mohabbat" in 1996, has his focus on direction now but hasn't ruled out acting in a film.
"I do get offers but nothing has really struck. I wouldn't say I don't want to act but nothing exciting is coming my way. I am not pursuing it either because I am completely into my scripts. Working with these actors is also making me learn so I think I am still in learning process as an actor, maybe when I am ready I will take an opportunity,"he said.