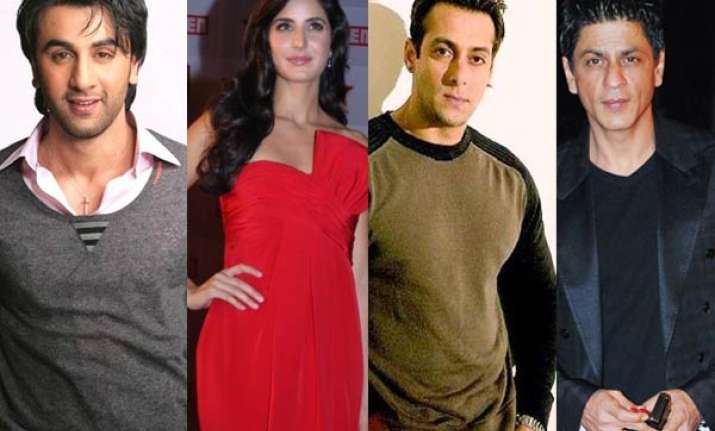 Katrina Kaif this time managed to spend time will all her three exes on her birthday, says a media report.

First, Ranbir Kapoor apparently met Kat on Friday night at the same suburban multiplex where she had come with the cast of her recent release, including actor Hrithik Roshan.

While many felt that Kat bumping into Ranbir was a mere co-incidence, there are others who insist that the two were hoping to catch up and the 'bumping into each other' bit was just eye-wash.In any case, Kat didn't stay back to spend time with the young actor. 

Instead, she scooted off to Bandra and landed on the sets of Salman's movie where he was shooting before midnight and the two then partied for a while at a Bandra nightclub.

According to sources, Salman had arranged for a cake and the two even cut it together at 12 midnight.

However, in less than an hour, Salman went back to shooting and Kat moved on partying at the further end of Bandra where Shah Rukh Khan had organised a special screening and a small bash for his future co-actor at his residence Mannat.Apparently the birthday gal and several of their industry friends partied on till quite late.

Interestingly, it was Katrina's birthday in 2008 when the industry had seen one of its' biggest camp divides when Salman and SRK had got into a heated argument.

"It's ironical that Aishwarya (Rai Bachchan) apparently over whom the feud had begun is already well-settled in her marriage and Katrina in whose bash the fiasco had happened too has moved on beyond the two camps. It's about time that Salman and SRK get the hint and move on too," said a source.