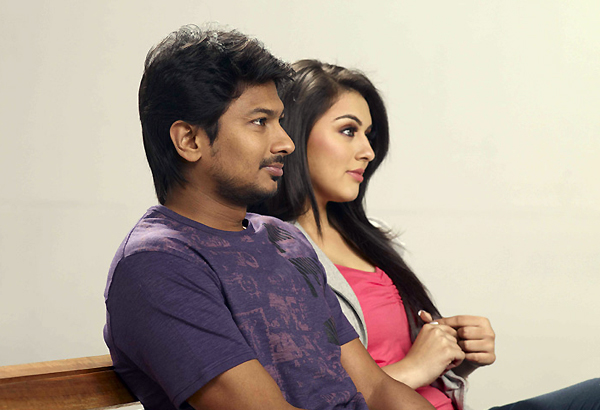 Chennai, March 15: DMK patriarch M Karunanidhi's grandson and  M. K. Stalin's son Udayanidhi has taken the plunge as an actor, says a media report.

Not content at being a successful big- budget producer, Udayanidhi has decided to take the lead role in an upcoming movie.

The romantic film Oru Kal oru Kannadi ( A Stone and A Mirror) sees him star opposite Kollywood beauty Hansika Motwani.

For the Karunanidhi  family, the lure of the big screen continues to be irresistible. M K Stalin failed to click on screen, but the third generation of the Karunanidhi clan does not seem satisfied with behind-the-scene roles.

At a time when Kollywood is trying to shake itself from the domination of the Karunanidhi clan, Udayanidhi is taking a plunge into an unchartered territory.

After Arul Nidhi, another of DMK patriarch's M. Karunanidhi's grandsons, Udayanidhi is the second one to foray into acting.

The audio launch of the movie last week was a star- studded affair and with post- production works having commenced, it is scheduled for release later this month or early next month.

Films and Dravidian politics have been feeding on each other since a very long time and the octogenarian himself attained fame as a scriptwriter.

Stalin's film career ended with two failed movies. He then acted in two Doordarshan serials, which no one remembers.