Follow us on New Delhi: Bigg Boss 8 landed up giving us all probably the most hilarious jives of the year, with the latest episode being molded with Kapil Sharma and his popular comic team.
However, the day started on a rather 'haunted' note when the housemates were seen discussing about Sonali's weird late night habits. Both Karishma and Puneet were shown having a word on how Sonali woke up after midnight and then continued roaming in the house for no reason. Puneet mentioned that Gautam seemed to be the most terrified with her as he hopped to Puneet's berth as soon as he noticed Sonali in the night.
Later, both Sonali and Ali were seen discussing in the washroom about how the inmates are strictly under fear with Sonali's attitude. The two also discussed that Sonali would deliberately continue doing such spooky incidents in order to make other realize that she has a split personality disorder.
Later, Puneet and Dimpy were made to answer a few questions by Bigg Boss inside the confession room about the rest of the housemates and their behaviour in the house. The contestants were made to sit in the living area to watch both Puneet and Dimpy on a screen and holding placards (with 'sach' and 'jhooth' written over them). Each contestant had to pick a placard in correspondence to the answer given by both Puneet and Dimpy.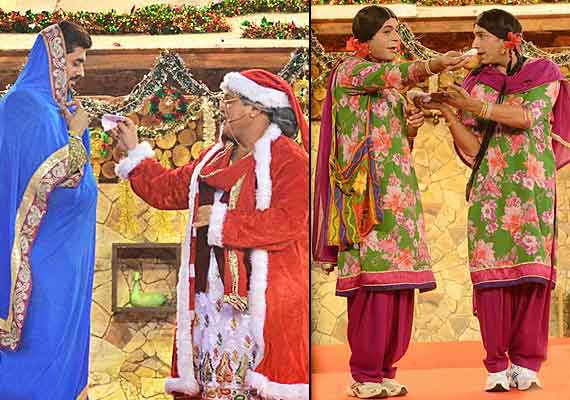 While Puneet escaped the task by garnering more 'sach,' Dimpy was seen sorting out things with the contestants. She also claimed that a few of her answers were more out of confusion and that she wasn't sure before answering them.
Dimpy also expressed her disappointment over Puneet's behaviour of not talking to her.
The evening in the house was all entertaining and dazzling. What constituted the atmosphere inside the house apart from the contestants and beautiful interior were giggles, laughter and colours of relaxation.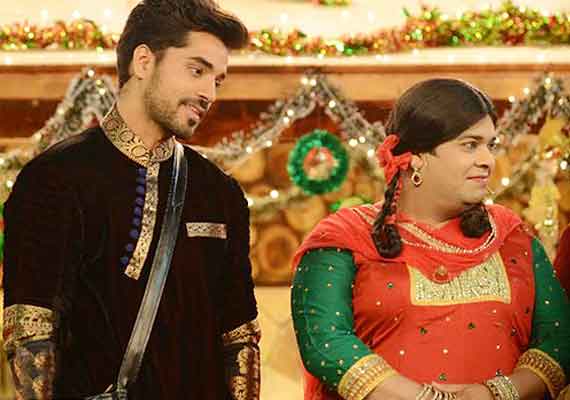 As Salman Khan was off considering his birthday celebration, Kapil Sharma along with Navjot Singh Sidhu, Gutthi, Palak, Dadi and Bua were made to add desired fervour in the show.
Kapil first took a dig on Bigg Boss himself saying he is the only man who can publicly ask a lady to come in his room (Bigg Boss chahate hain ki Karishma Tanna room me ayein!).
His stand up gigs and timely funny acts left everyone in splits. One of the best part of the show remained Palak's performance with Gautam Gulati. Palak asked both Upen and Gautam to lift her up, conditioning that the one who fails to do so will have to marry her in lieu.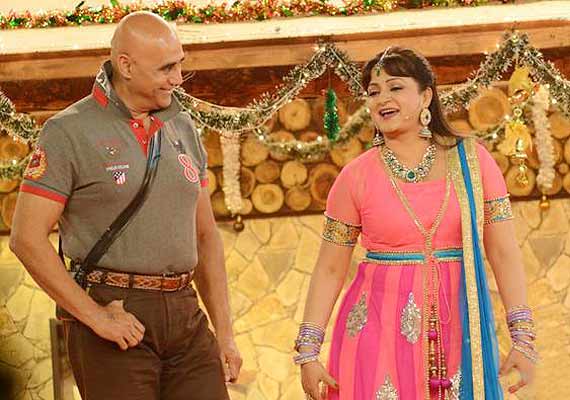 While Upen lifted her, Gautam agreed to marry her. And then the entire gimmick began; Gautam even danced with the lady on 'Gulaabi Ankhein' and the act was thoroughly enjoyed.
Gutthi transformed Ali into her twin sister and made him to wear an outfit like her. Bua had her own loving moments with Puneet Issar and Dadi came with rather logical resolutions for each contestant as she dressed up like Santa.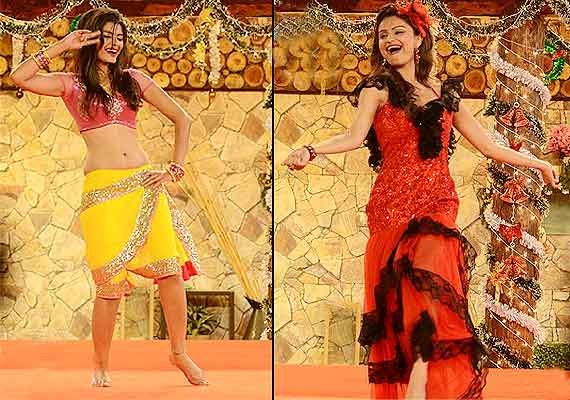 The show ended on a sizzling note when the three hotties inside the house – Karishma, Sonali and Dimpy presented their scintillating dance performances.