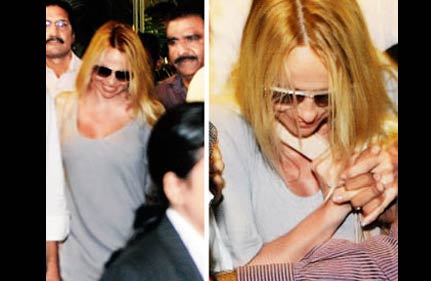 Baywatch babe Pamela Anderson stepped off the plane at Mumbai airport to "soak in the Indian culture" (as she said) and went to Customs officials to say: "I have no assets to declare".
The world's most famous pin-up girl landed at Mumbai airport late on Monday evening in a short ash-grey dress, high heels, and a bright smile that said nothing of her long flight or the grilling she was subjected to by immigration officials. 
But 43-year -old Pamela Anderson convinced the officials she had no assets to declare and sailed out of the terminal into the waiting car that took her to the sets of Bigg Boss, where she is scheduled to be a guest for three days.
"I have done Big Brother Australia," Pam told Mumbai Mirror, "I am very excited. I always wanted to come to India; this is a great opportunity. I am looking forward to my stay." 
Pam was the last among her co-passengers aboard the Emirates flight from Dubai to leave the airport as immigration officials were reportedly trying to figure out if she was travelling on a business or a tourist visa.For Pam though, and the media, it was business as usual once she stepped out.
Pamela will be donning a sari and no bikini  in Bigg Boss, says the Mirror report. The channel has zeroed in on local designer Ashley Rebello to make a designer sari for the Baywatch babe to become a desi girl. 
Ashley Rebello confirmed the news:  "Yes, I am in the process of making a sari for her. They contacted me just sometime back and told me that this is something they wanted urgently. However I told them that I don't have her measurements and they sent these to me on Monday evening. I have finalised the design." 
Rebello added, "I am making a white chiffon sari for her with baadla work on it. There will be a little mirror work running all across the border. It has spaghetti straps and is accessorized by a backless blouse with a sexy neckline. There will be crystals all over the blouse. I am also giving her big jhumkas with lot of bangles on it." 
Pamela in a white sari is going to look like a Yash Chopra heroine. Remember Silisila?