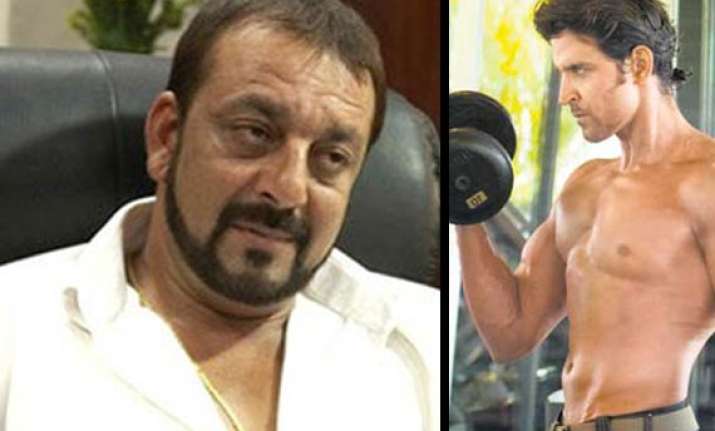 Mumbai, June 3: Bollywood actor Sanjay Dutt has now turned to Hrithik Roshan for toning up his body, says a DNA report.

Sanjay wants Hrithik to become his gym teacher to help him get back the body that he once had.

"Sanjay was really impressed when he saw Hrithik's body at present. He called Hrithik and told him that he wants to work out with him," says a source.

Hrithik had actually developed a paunch when he finished shooting for Guzaarish.

It was because filmmaker Sanjay Leela Bhansali had asked him to put on as much weight as he can for the film role where he played a paraplegic. But Hrithik knocked out all the weight and got back his six-pack within months of the film's release.

"Sanju asked him what he has been doing to get that body back. Hrithik willingly explained how he went about his weight training to lose the unwanted gain.

"There were a lot of specifications that one has to follow and Hrithik even offered the services of his personal trainer. But Sanju wanted to work out with only Hrithik as he felt that the young actor also would be a patient teacher.

"Besides, there was the comfort factor that they had between them ever since they acted together in Mission Kashmir," the source adds.

Sanjay works out in a five-star hotel while Hrithik works out at a private gym.

"They start gymming in couple of weeks. Sanju wants to devote some quality time to his gym now. He also wants to get rid of his paunch as he had not been able to tuck his shirt in ever since," the source.