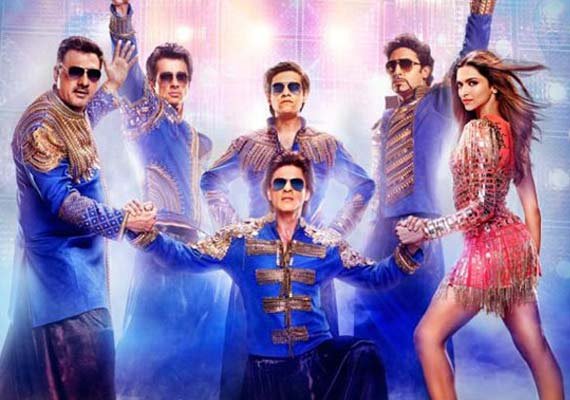 New Delhi: Don't know what the film critics will feel about it but Happy New Year is laughing its way to Rs 200 cr club in terms of nett collection and will just take a day or two to reach there. However, as far as its gross collection goes, the movie has collected whooping Rs 359.50 cr worldwide including Rs 280 cr from India itself within fifteen days of its release, according to a leading daily Koimoi.
Happy New Year is now in its third week and on its third Saturday, it collected Rs 1.80 cr nett taking its sixteen days total to Rs 196.30 cr.
After two new releases 'The Shaukeens' and 'Rang Rasiya', the Farah Khan directorial screen count has heavily came down to 800-900 and so according will be followed its collection.
At a creeping pace, the movie is going to earn around Rs 2.5 cr today and by Monday, the comedy drama shall hit the double ton.
Here is the sixteen days break through of Happy New Year in India-
Fri 44.97 cr, Sat 31.60 cr, Sun 32.29 cr, Mon 15 cr, Tue 13 cr- Wed 11.50, Thur 9.4 Total 157.50 cr nett.
Week 2- Fri 7 Sat 7.50 Sun 8.50 Mon 3 Tue 3.40 Wed 2.75 Thur 3.35- Total- 35.5 cr nett.
Week 3- Fri 1.5, Sat 1.8 Total – 3.3 cr nett
Compared to the biggest blockbusters, Happy New Year is at fifth position. Aamir Khan starrer 'Dhoom 3', takes the top spot with a humongous collection of Rs 264.47 cr within the same time period while the superhero flick Krrish 3 collected Rs 230.95 cr nett in India in sixteen days.
This year biggest hit Kick garnered Rs 220.02 cr in India within sixteen days of its release and with Rs 206.25 cr collection it is Chennai Express standing at fourth position.
'The Shaukeens' starring Akshay Kumar, Annu Kapoor, Anupam Kher, Piyush Mishra and Lisa Hayden is enjoying a steady weekend collecting Rs 5 cr on Friday and another Rs 5 cr on Saturday while the business is expected to grow today since it's a holiday.
The movie has got mixed reviews and most of the trade pundits are complaining as to why it wasn't promoted as Akshy Kumar movie. However, he has a cameo- where he plays an alcoholic superstar- but it's too extended. Had it been him leading away in the movie, the business could have been much bigger than it is now.
On the other hand, Rang Rasiya starring Randeep Hooda which is critically being acclaimed isn't enjoying a commercial success. Even its publicity through being embroiled in controversy too didn't help the movie fetch decent audience. The movie has just managed over Rs 1 cr in two days.