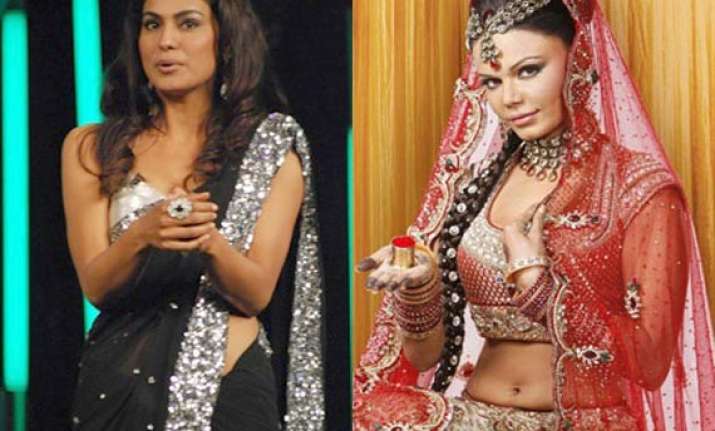 Even as Pakistani moral police bloggers are burning the wires on internet to protest  the selection of  actress Veena Malik for the  Swayamvar show, the Mumbai-based Cine & TV Artistes Association is also up in arms  questioning  the selection of a foreign national for an Indian TV reality show.

First off the block, was item girl and ex-Swayamvar girl Rakhi Sawant who described Veena Malik as a 'sattebaaz' obliquely referring to her relationship with the tainted Pakistani cricketers (read Mohd Asif) .

"Why have they selected a 'sateebaaz' who has ruined the name of her country? Once was probably okay. But they are now doing it again and again. I strongly condemn this move and join the protest", said the former Swayamvar girl, whose marriage on the reality show ended in a fiasco, and she did not return the diamond ring too.

Veena Malik, on her part, has already shot the promos in Agra with a Taj backdrop. The Cine & TV Artistes Association in Mumbai has criticized Imagine TV, the channel hosting the marriage reality show, for roping in a Pakistani actress.

The Indian Artistes And Actors Forum has also raised objections over Veena's selection. 

"She (Veena is here on a business visa, which means she cannot earn a living in India. A business visa is valid for 45 days and with triple-entry permission.
To my knowledge, she isn't supposed to go outside the city where her visa is applicable. we don't know how she has been shooting in Agra. We have not given her work permit", said CINTAA chairman Raza Murad.

"We are against this trend of selectiong foreign artistes for roles in India TV and films. There are thousands of Indian girls trying hard to get small roles on TV and in film. So why choose Veena, who is not great or unique as an actor?" asked an IAAF spokesperson.

On Twitter, Facebook and YouTube, Pakistani bloggers are hitting out at Veena Malik right and left.

Alina D., a Pakistani blogger wrote: "She is set to be the first non-Hindu, Pakistani would-be bride on the Indian reality show Swayamvar next year. It dwindles a sacred relationship to a thirst of glamour, riches and the spotlight. She plays wheel-of-husband on a reality game show like swayamvar, cheapening the institution of marriage."

Another cyber geek Murtazauzzaman tweeted: 'you know you're in deep sh*t when Veena Malik makes more sense than the rest of the panel."

Another Pakistani blogger Shahabkalim tweeted : "Plz check if Veena Malik is engaged for the 99th time or is she free J(sic)."

Veena has reportedly been offered Rs 3 crore for the show. She might be paid Rs 4.5 crore if she actually ties the knot on the reality show. The channel will soon make an official announcement for registrations. So, Indian men, get ready!