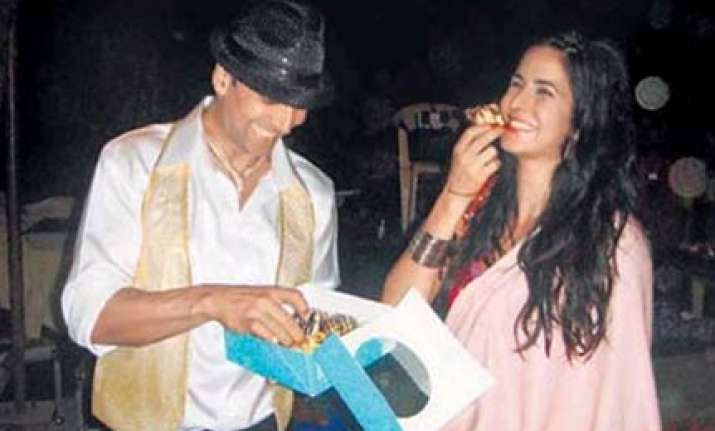 Film maker Farah Khan believes in keeping her artistes happy. She promised her Tees Maar Khan heroine, Katrina Kaif a special treat if she managed to maintain a slender waist for her raunchy number, Sheila Ki Jawani. On Thursday, Farah Khan fulfilled Kat's craving to have Cinnabons, says a media report.
Says the director, "Katrina has worked extremely hard on the song Sheila Ki Jawani over the last couple of weeks.  
"I had told her I'd give her whatever treat she wanted after the song was done.  
"She wanted Cinnabons so yesterday I got three dozen in assorted flavours on the sets after we packed up.
"The day before wrap-up, she finished shooting for the song, went for a press endorsement in the evening and then went to the gym at midnight and worked out."
Farah is impressed with Kat's professionalism and dedication.  
"She had to wear a low waisted, half-saree for the song so for the last two weeks she cut down on carbohydrates, didn't have any sweets, went to the gym regularly and followed a strict diet.
"She did whatever I told her to do. Now that the song is over, the poor girl can eat to her heart's content. Her performance in this song is going to shock people."
Incidentally, Shah Rukh had gone on a diet and almost starved for Om Shanti Om and Dard-e-Disco.  
A defensive Farah states, "I don't ask my stars to starve. I just tell them that this is what you have to look like and these are your costume references.  
"Like Madhuri will be remembered for Ek Do Teen, Kat will be remembered for Sheila Ki Jawani. She's looking her best! It is like a tribute to Jumma Chumma from Hum. Akshay is also in the song."
Katrina says, "After pack up, we had a feast (she ate three Cinnabons). I love Cinnabons so I asked Farah if I could have some after the song got over.  
"I have been training with Yasmin Karachiwala for the last 13 days to tone down for the song. We trained on Tuesday night at 12 am.  
"It's not so much about losing weight as toning the abs and body. I have been on a controlled diet which consists mainly of fruit, fish and porridge."