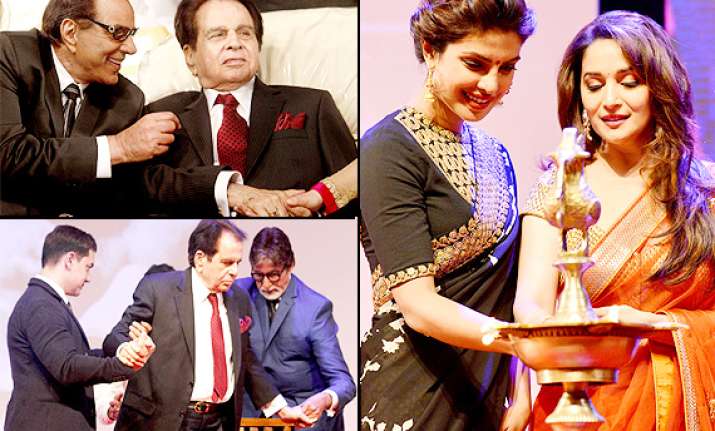 New Delhi: Dilip Kumar's autobiography launch was an event comprising of Bollywood's celebs ranging from old and gold to new and young. The much awaited biography titled "The Substance and The Shadow" was penned down by Udaya Tara Nayar.
The event witnessed some of the very big names from the industry. Amitabh Bachchan, Dharmendra, Aamir Khan, Vyjayanthimala, Madhuri Dixit, Priyanka Chopra are a few prominent names amongst many others who graced the auspicious event.
While notes singers Shaan and Javed Ali presented a melody of thespian Dilip Kumar's films, prepared by Lalit Pandit, it was a whole cinematic view watching such big legends on the stage together.
Legendary singer, Lata Mangeshkar was also expected to come and sing for the tragedy king, DIlip Kumar, but unfortunately she couldn't make it.
While expressing her views, Madhuri Dixit, who was accompanied by husband Sriram Nene, said, "Dilip Kumar is a legend in him and it's a big day. He has been an inspiration for everybody."
The gala saw Karan Johar as host and it was a rare glance watching almost the entire film fraternity participating in the event.