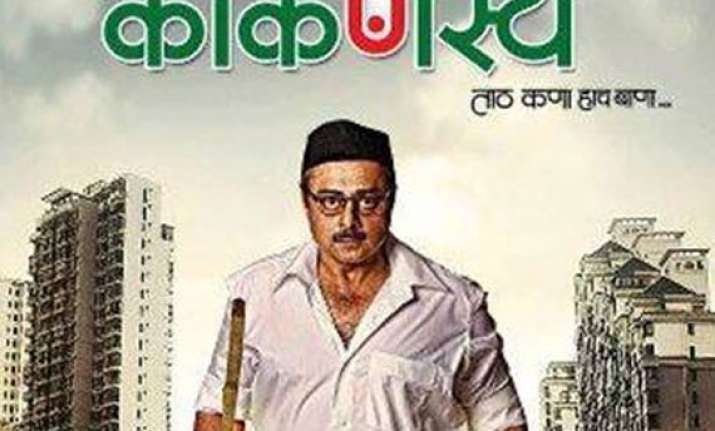 Mumbai, May 6: Dalit writer and ideologue Raja Dhale has castigated what he called portrayal of  'Brahmin supremacy' in a Marathi film Konkanastha, made by Mahesh Manjrekar, which will be released on May 10.
The poster shows actor Sachin Khedekar dressed as an RSS swayamsewak with a tag line: Taath Kana, Haach Baana (A straight spine is our character).
Says Dhale: "This kind of nonsense is allowed because of lax implementation of the law. How can anyone call their work art when it is divisive and aims at reinforcing stereotypes about supremacy that people have given up their lives to fight."
"The casteist RSS and its connections to Gandhi's assassin Nathuram Godse are already well known," says Dhale.
Says director Mahesh Manjrekar:  "I'm making a movie in a free country in keeping with the law. I can't go around seeking approval for the poster. People are entitled to their views as I am to mine."
Dalit and OBC groups are up in arms on Facebook and Twitter against the film poster.
The Konkanastha Brahmin community has however  welcomed the film.
Bahubhasheek Brahmin Nyas chairperson Moreshwar Ghaisas has asked those rushing to protest to wait for the movie.
"I've seen posters and they do attract attention. I don't think asking Konkanastha Brahmins not to bend conveys supremacism. If anyone wants to react, they should wait for the movie's release."
Says Mahesh Manjrekar: "When I'm making a film, I only go by the script. I wonder why there is this  allergy to the RSS. As a child, I would attend shakhas, and the discipline and love for the motherland it instilled in me has helped immensely."
While Manjrekar's earlier film Kaksparsh too dwelt on the community, his hit film Me Shivajiraje Bhosale Boltoy had touched a chord with its regional overtones on the issue of outsiders.
RSS publicity-in-charge Pramod Bapat said: "This is not the first time people have tried to club the RSS with the Brahmin community. Gandhi and Ambedkar too did it. But when they actually went to see for themselves, they found that virtually every caste and creed of people were swayamsewaks," he said. "RSS has not made the movie, so why will it promote us?"
A source in Manjrekar's team said:  "There is a strong Dalit character played by Upendra Limaye in the story. He has more on-screen space than Khedekar but it has been kept under wraps to create a pre-release buzz."