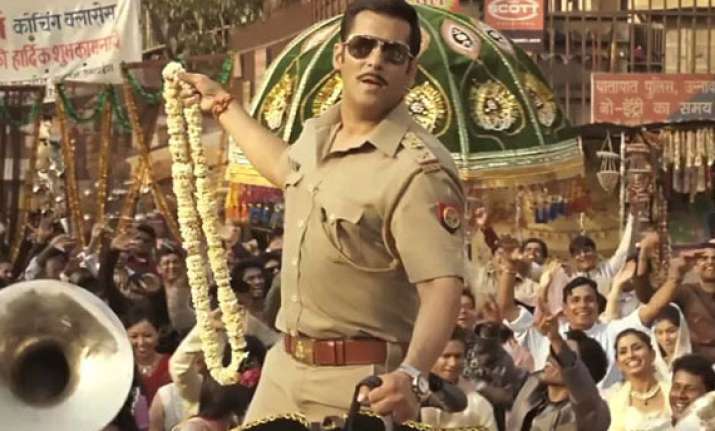 Director : Arbaaz Khan
Music :
Sajid-Wajid
Lyrics :
Sameer, Jalees Sherwani, Sajid-Wajid, Asraf Ali and Irfan Kamal
Starring :
Salman Khan
, Sonakshi Sinha, Arbaaz Khan, Mahie Gill, Vinod Khanna and Prakash Raj
Stars
- 2.5
In the middle of the year we witnessed Salman Khan in Ek Tha Tiger one of the decent raw action flicks delivered in the recent  past. The other flick presented was
Akshay Kumar
's 'Rowdy Rathore' which every spectator admired keeping aside his last week's release 'Khiladi 786' being silly in its action.  The Diwali release 'Son of Sardar' had some non-digestible actions but we tend to enjoy all these by just keeping our brains aside.  
With the year coming to a close ,  the bindas Robin Hood is once again back to flush off the baddies in town in his own  style and when we watched we got what we expected.  The flying high action, punching with a wind sequences, holding up the culprit and throwing him down the earth.  Definitely enjoyable.
Dabangg 2 is the sequel but is similar in many aspects. Right from action  till the music composition. 
The flick begins from where it left. Chulbul Pandey played by Salman Khan married to Rajjo, depicted by Sonakshi Sinha, in first instalment is now transferred from Laalganj to Bajariya thana in Kanpur. 
He is now an Inspector-in-charge here carrying forward the  same values he had before. Without wasting any time Pandeji comes hard over criminals in the city. And talking of the same values, Pandeji robs the rich and helps the poor in the sequel too.