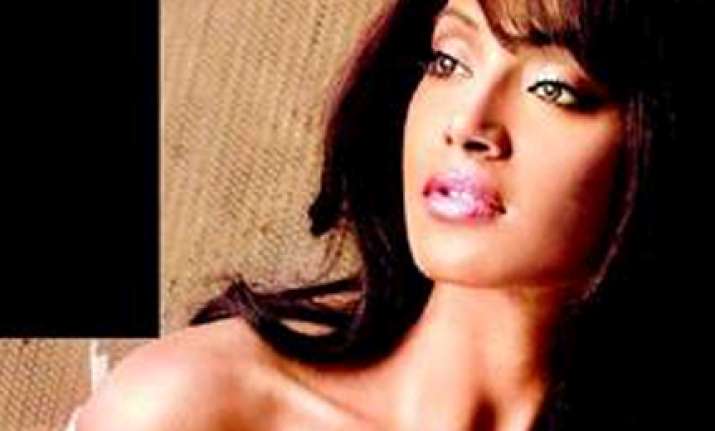 Bollywood star Bipasha Basu is upset as she is now out of director Mani Ratnam's film Raavan starring Aishwarya, Abhishek and Priya Mani.
Bipasha was to play the role of  Raavan's wife Mandodari. She had dress fittings, attended rehearsals, and was allotted 20 days of work in the film of which 12 were to be used exclusively for an exotic item number.
A press release from Mani's spokesperson explains that the filmmaker did not want to do any injustice to Bipasha's role, but, at a later date, he will ensure that they work together, reports Times of India.
Bipasha responded, "I am sad... but it's better than having my role chopped or totally edited... when lot of effort had gone to work out the role for this guest character."
Shooting for the film continues at Malshej Ghat.
While Bips, herself, is silent on what led to her ouster, an  insider alleged that her track in the story was proving to be a bit too strong and disrupting the length of the film.
Another take has it that she was also proving to be a threat to some of the other actresses in the film like Ash and Priya Mani
Meanwhile, Bipasha  continues to live out  of a suitcase for the sixth month now. Her newly-renovated duplex in Santacruz has a seepage problem. "Ten different experts were called to identify the cause,'' she grumbled, "and after weeks of study, one of them has nailed it. The roof will take another week to be fixed.''
Bipasha's entertainer All The Best is being released during Diwali.  She is confident about the film, "There are certain films that work across segments and All The Best, a situational comedy, is one such film.''
There's also talk of Boney Kapoor's No Entry-II being made. "Then it should have the original star cast of Salman Khan, Anil Kapoor, Lara Dutta and me because that is the only way it will recreate the same box office magic,'' said Bipasha.