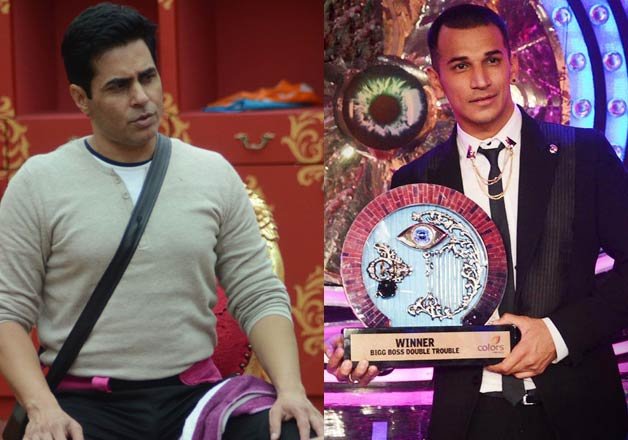 New Delhi: One of the most popular reality shows on TV Bigg Boss has been audience's favourite since season 1.
The show not only ensures complete entertainment but often grabs the eyeballs with the controversial fights and tasks.
Recently, Bigg Boss aired its ninth season 'Double-Trouble'. Hosted by Salman Khan, this season came up with a little twist as contestants were given partners to deal with in the beginning. However, unlike its previous seasons, BB9 failed to create its impression.
While the show ended recently with Prince Narula emerging as its winner, it looks like the BB hangover is not over yet and controversies are yet to take on.
As per the recent buzz, it is said Prince Narula winning Bigg Boss 9 was entirely scripted and so was the show.
Yes! It's true. And this revelation was made by Aman Verma who was one of the contestants in Bigg Boss 9.
While talking to a leading daily Aman revealed that the show was scripted and he knew he'll be there on the show for just six weeks.
"I was supposed to be on the show for just six weeks according to my deal with the producers. We wanted people to think that mine was a proper eviction but actually, I could only afford to give the show six weeks," Aman was reported saying.
He also revealed each contestant inside the house was well aware from the beginning that it is Prince Narula who will win the show.
"We knew right from the start that Prince Narula is going to win Bigg Boss. There were a lot of people from the production team who were talking about it, saying that this guy will win the show," the actor claimed.
Aman also spoke about how Bigg Boss doesn't benefit any of the contestants professionally. In fact, he referred BB as a platform to get infamous for a certain period of time.
"If you are on Bigg Boss for three months it is not going to change your career. Tell me the name of any winner of Bigg Boss whose career has changed after coming on the show, except for Shweta Tewari, who was already doing well in her career. If you want to get infamous for a certain time, then it is a great show to be on. But for me, mere paas six weeks free thay, so I did my bit, took my money and came out," Aman added.
This is not the first time that such allegations have been made about Bigg Boss. Earlier, Suyyash Rai also reportedly hinted that the show was rigged.
Even former contestants of the previous seasons including Khali, Kashmira Shah, KRK and Rahul Bhatt, had accused Bigg Boss makers for fixing the show.