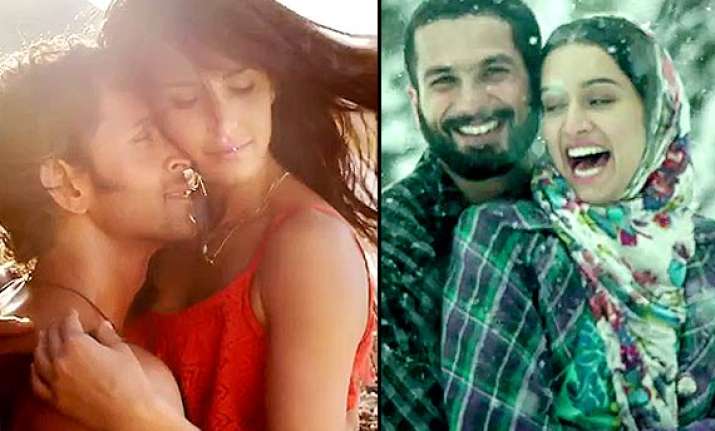 New Dehi: Bang Bang has truly banged it and nailed it with its stupendous teaser. Hrithik Roshan and Katrina Kaif starrer Bang Bang has got out with its teaser and the audience is going gaga over it.
Such is the charisma of Hrithik Roshan in the teaser that the viewers are unable to resist their glee and are falling flat over this 'guns and roses' concoction. As the teaser itself reveals, Bang Bang is getting released on the most peaceful day of the year, i.e. October 2 that happens to be Gandhi Jayanti in India.
What is more interesting is the fact that Shahid Kapoor's masterpiece of the year, Haider is going to clash with this mind boggling #BangBang.
Both these highly anticipated movies of the year will be clashing at the box office on October 2, 2014. And while no doubt Vishal Bharadwaj and team have evidently put their heart and soul in Haider, Bang Bang seems to be swiping all the dilemmas out with its blasting teaser.
With almost the entire film fraternity showering Hrithik and director Siddharth Anand with tons of appraisals and acknowledgements over twitter, we wonder about the survival of 'Haider' now!
The chances of Haider being stood against a highly functionalized movie such as Bang Bang seemed bleak since always. Though there were chances of Haider being accepted in front of Bang Bang, considering its performance oriented star cast and a solid Shahid come-back.
Now, within just 3 hours of its release on YouTube, Bang Bang teaser has perfectly hit the audience's wit and garnered around 80,000 views and both Hrithik and Katrina's fans are celebrating this film's presence.
The inclination towards the film as oppose to Shahid and Shraddha starrer Haider is visibly evident.
Read a few comments below on twitter, YouTube and facebook to know who has got the ball in his court, Bang Bang or Haider!
WoW! :o
Haider toh gaya :/
Looking like a Hollywood Movie Trailer..
this is it, BANg BAng.. Movie of the year
Hold on your breath, it's BANG BANG time...  
Now know what has industryvalas have to say!

Sonam Kapoor - Why are they so good looking!! @iHrithik This is too hot!  
Sophie Choudry - Outfrikkin' standing teaser! Uff..How awesm r u @iHrithik !!! Cannot wait to see this film! Congrats team #BangBang .. U got it bang on!
Riteish Deshmukh - Bang Bang Bang Bang Bang Bang Bang Bang Bang Bang Bang Bang Bang Bang Bang Bang Bang Bang OutBANGintastic - Mummy ki eye teaser  
Arjun Kapoor - "@iHrithik wish I cld list the words I have used in 60secs...F**K what a teaser #BangBang  
Taran Adarsh - #BangBang arrives with a BIG BANG! Teaser is simply WOW! Truly international level. Kudos Hrithik, Katrina, Siddharth Anand, Fox.  
Milap Zaveri - #BangBang teaser makes one do "Salaam" and "Namaste" to Siddharth Anand! Shall wait for 2nd Oct "Knight" and "Day!"
Karan Johar - No this is what you call a TEASE!!!! #BangBang The mind is blown!!!!!