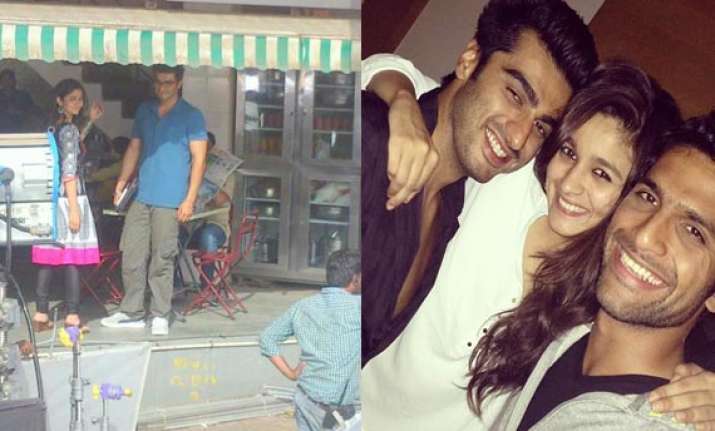 Mumbai: Ishaqzaade actor Arjun Kapoor and adorable Alia Bhatt are all set to burn the screen together in the romantic drama' 2 States'. The film is based on writer Chetan Bhagat's novel with the same name.
Recently the  two were spotted during the shoot of movie in a cafe.  
While  Alia was looking cute in her desi style, wearing white and pink suit with silver bangles in her hand, Arjun was looking completely different from his previous movie and  was spotted wearing spectacles and carrying books in his hand.  
The story is about Krish Malhotra and Ananya Swaminathan who hail from two different states of India, are deeply in love and want to get married.
This flick is directed by Abhishek Verman and produced by Sajid Nadiadwala.  
Report says, Arjun Kapoor will play Punjabi boy Krish Malhotra, while Alia will portray the role of an intelligent Southie Ananya Swaminathan.  
The flick is set to release on April 18, 2014.
Watch pics ---
 Arjun Kapoor and Alia Bhatt during 2 States shooting


 Arjun Kapoor and Alia Bhatt during 2 States shooting


 Arjun Kapoor and Alia Bhatt during 2 States shooting
 Arjun Kapoor and Alia Bhatt during 2 States shooting
Arjun Kapoor and Alia Bhatt during 2 States shooting
Arjun Kapoor and Alia Bhatt during 2 States shooting
Arjun Kapoor and Alia Bhatt during 2 States shooting