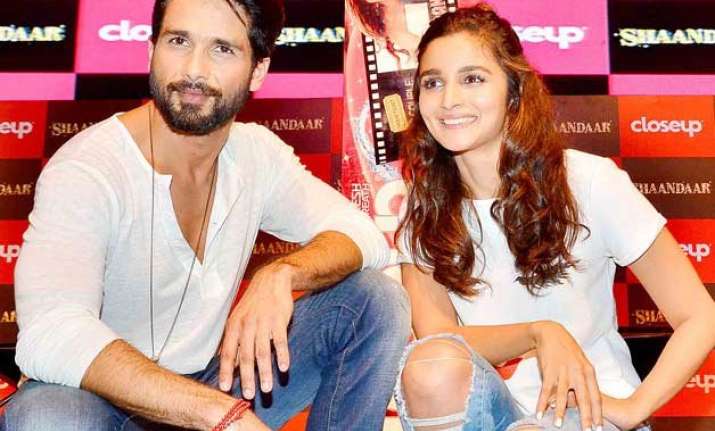 New Delhi: The chemistry that was so evident in the trailer of 'Shaandaar' is not just restricted to the screen. The duo of Alia Bhatt and Shahid Kapoor, who are busy promoting their movie 'Shaandaar', also have a close relationship off screen.
At one such promotional event, which traced the idea of 'Make Your First Move', Alia Bhatt came to Shahid Kapoor's rescue. Not once but many times.
We will list a few of them. A reporter at the event asked Shahid who made the first move between him and his wife Mira and Shahid didn't have a response. Alia jumped in saying, "No questions related to Shahid's marriage. We are here to talk about his movie." Shahid tried making a comeback, but ended up giving this bland answer, "I am working currently. We will talk about it when I am not working."
It happened again when a journalist was questioning Shahid. Alia walked near the podium and said, "No wedding questions for Shahid Kapoor." This obviously led the media to wonder why she is not letting Shahid speak for himself. When asked about the same she replied, "I am protective about him."
Well, we don't know why Alia Bhatt has made a habit of answering questions for Shahid Kapoor, a habit which began when the trailer of 'Shaandaar' launched. But Shahid it seems likes his on-screen love interest speak for him when he cannot.