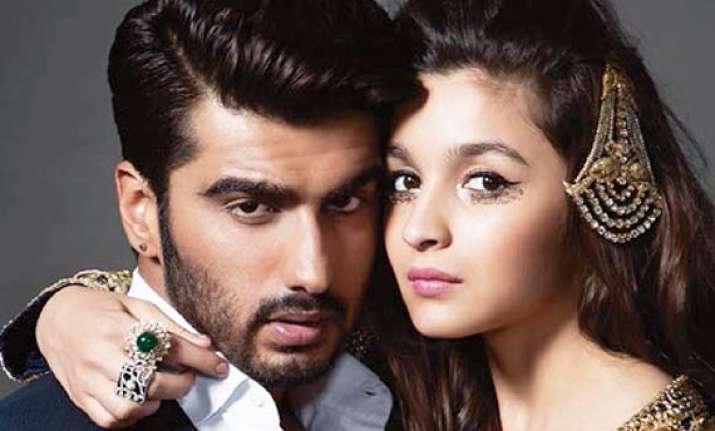 They are on and everywhere! Yes, we are talking about the new young couple of Bollywood, Arjun Kapoor and Alia Bhatt. The duo is not even letting a single loop hole in tying knots for the promotion of their upcoming '2 states.'
After featuring on the cover of 'Filmfare,' the hot couple has covered this month's issue of 'Harper Bazaar.' Looking exquisitely bold, the couple has posed raising the bar of their intense chemistry for the magazine.
In the pictures from the photo shoot, both Alia-Arjun seems to have avoided the quintessential couple's expression. Instead, a lot more depth and warmth seem to appear from the pictures.
As smashing hot as they both look in real life, both Alia Bhatt and Arjun Kapoor has raised the bar of their sizzling chemistry even more by featuring on the cover of the magazine.
 Alia, whose bubbly-pretty face has always been taken as a stark example of the innocence beauty, rocks uber mature look in an exquisite bridal avatar this time. As Arjun holds her lady and throws his ever charming robust look over the onlooker, the couple sizzles in the pictures together.
While both Alia and Arjun are busy promoting their upcoming, '2 states' these days, it's their off-screen chemistry that is garnering attention along with the film. Those candid cuddling moments in public and why bother attitude is surely intriguing more and more audience for the film day by day.
The intense bonding shown by the duo on the cover is sure to hit the chords of their already rumoured love relationship, it would now be great to see what is in the future for the '2 States!
The film is getting released soon on April 18.