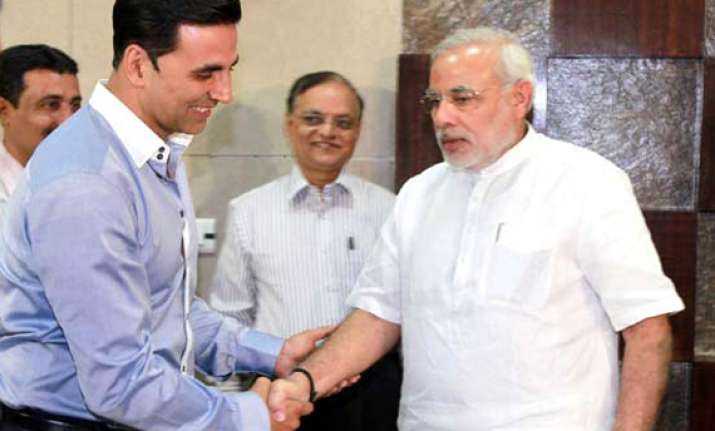 Vadodara (Guj), Nov 29: Showering praises on Gujarat Chief Minister Narendra Modi on the sidelines of a sports event here, actor Akshay Kumar has expressed desire to become brand ambassador of the state even as he proposed martial art training at school level.
 
The actor was speaking at the inauguration of the seven-day long 'Khel Mahakumbh' or mega sports event organised by the Gujarat government at M S University Pavilion ground last night.
 
The actor praised Modi for including 60,000 differently-abled persons in the event for the first time since the beginning of the sports jamboree last year.
 
 A record number of about 2.2 million players from across the state have registered for taking part in different categories of sports.
 
The number is 7.2 lakh more than participation of 15 lakh players in the Khel Mahakumbh organised last year.
 
"Never have I heard of such an initiative. I would love to be Gujarat's brand Ambassador if it was offered to me," the action hero said.
 
Veteran actor Amitabh Bachchan is currently the brand ambassador of Gujarat to promote tourism.
 
Replying to Akshay Kumar's proposal that the schools in Gujarat could impart training to kids in martial arts, chief minister Narendra Modi said, "Akshay Kumar has met me on several occasions in the past pleading for such training in Gujarat. Though I am aware of achievements of the actor, I will definitely look into his demand".
 
Martial arts is not just about violence or fighting but about the power to change one's life," the actor said.