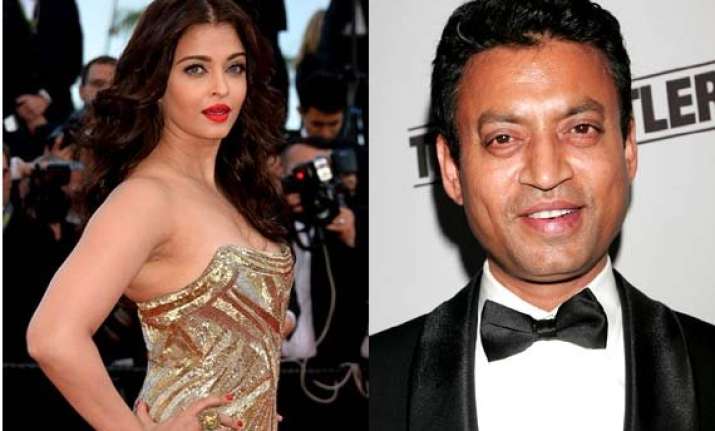 New Delhi: The news of Aishwarya Rai Bachchan back on-screen with her upcoming movie Jazbaa is stale and old. There is something more to be told and that is the presence of actor Irrfan Khan in the movie.
Filmmaker Sanjay Gupta has roped in Aishwarya Rai Bachchan and Irffan Khan in his upcoming film Jazbaa. Aishwarya Rai who was on a break post her pregnancy is all gearing up for this film.
Reportedly, Aishwarya Rai will be seen playing a lawyer in the movie opposite Irrfan Khan, who will be essaying the part of a suspended cop known to pick a bone with the authority.
Earlier there were reports that actor John Abraham had bagged the role of the male lead in the film. For the first time, we will be seeing hunk John Abraham acting alongside 'Ash' as well. His role is said to be based on gangster Abu Salem after he was extradited to India. We are eager to see this power packed ensemble cast setting the screen on fire.
Rumoured to be the remake of a foreign film, sources reveal that it will be an action thriller, where Aishwarya Rai will be portraying the role of a lawyer alongside a suspended cop being played by Irrfan Khan.
The actress, who had been ruling the tinsel town soon after her advent in 1997, will be seen in the skin of a lawyer for the first time in her career and you would have to agree that it's Sanjay Gupta's Jazbaa that has brought these two great actors together in a film. However, the entire credit goes to her hubby Abhishek Bachchan, who facilitated the casting of Aishwarya Rai in the film.
With 'Jazbaa' scheduled to begin filming in January 2015, it probably won't be long before the movie hits the theatres.
Aishwarya will be doing some strenuous action-packed stunts in the film for which she will soon undergo special training. Fast & Furious stunt director Spiro Razatos, has been roped in to choreograph action sequence for Aishwarya in the film.
Jazbaa is set in modern day Mumbai and it will be shot across the city. Produced and directed by Sanjay Gupta, Jazbaa is slated to go on floors in January 2015.