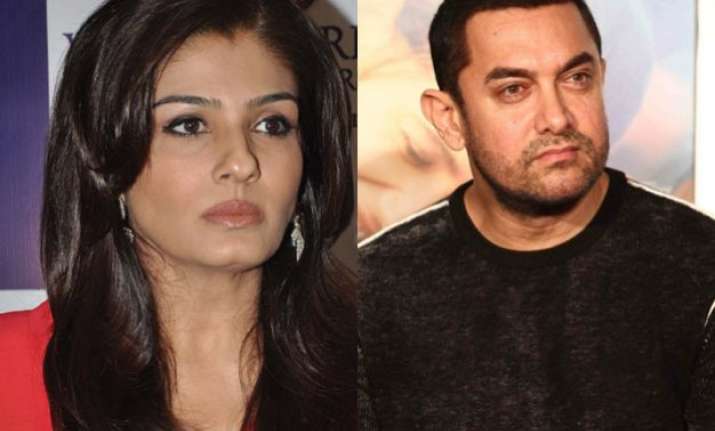 New Delhi: When Aamir Khan spoke his heart out yesterday at the Ramnath Goenka Awards on the "growing intolerance" in the country, little would he have thought that this would create a political row across the nation. Since this morning, renowned faces of the film industry are expressing their views on Aamir's thought on leaving the nation with wife Kiran Rao.
Many including veteran actors Anupam Kher and Rishi Kapoor slammed Aamir and urged him to not spread fear in the country. The latest to join this list of people is actress Raveena Tandon who romanced Aamir in 'Andaz Apna Apna'.
In a series of tweets posted by the actress she openly took the side of Prime Minister Narendra Modi and the central government. Her tweet read, "Guess all those who did not want pm Modi to become PM,want 2 bring this govt down..sadly becoz of politics,they are shaming country .."
Though, Raveena did not take Aamir's name in any of her tweets, she voice her opinions quite ferociously.
"Fringe elements were always there,1can always say thats condemnable,action needs to be taken against them,but to spread paranoia?not done," she tweeted.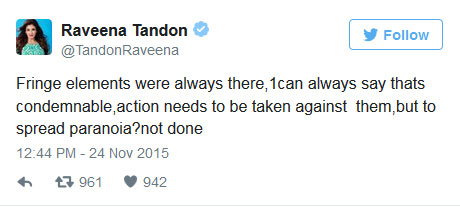 She also wrote, "But when it comes to respecting your nation and what it has done for you ?? Before that ask yourself.. What have you done for the nation?"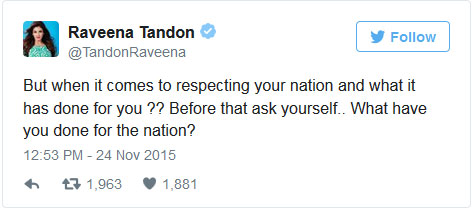 Well, this obviously means she is asking Aamir questions which sooner or later he will have to give answers to.
Here are other tweets by her: