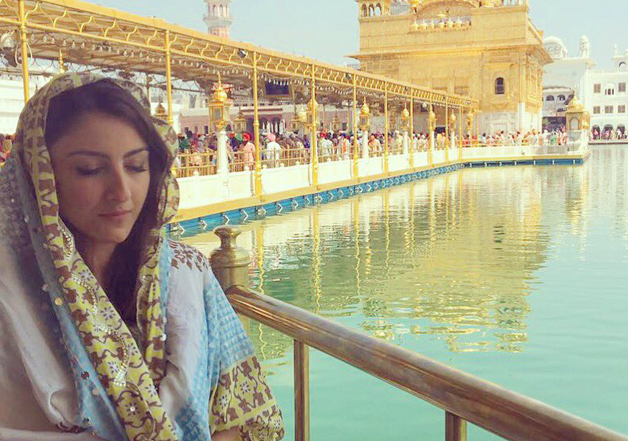 Actress Soha Ali Khan, recently drew flak after she visited Golden Temple in Amritsar for being what few termed as a sign of disloyalty for her religion. A few days later her visit to a Ganpati pandal gave social media trolls another reason to spew hatred against her. As a response to all these hatred the actress has reportedly said that her faith is no one's business.
Targeting Soha, social media trolls told her that she will only get satisfaction by following her religion (Islam). One user went ahead to say that she should have shame and will be sent to hell for her act.
Though, Soha has remained tight lipped on this matter on social media, she lashed out at people questioning her faith while speaking to a leading daily. In strong words Soha Ali Khan said that whether she reads namaz or visits a church it is her personal choice.
Feeling blessed ! Golden moment #goldentemple #amritsar pic.twitter.com/AUchA5l3wE

— Soha Ali Khan (@sakpataudi) September 3, 2016
Seeking blessings at Andhericha Raja Ganesh Mandal today #Ganpati pic.twitter.com/8div7NkHBD

— Soha Ali Khan (@sakpataudi) September 9, 2016
Talking about the diverse culture which Indian has, Soha said that she supports freedom of expression but saying that visiting a temple makes her a lesser Muslim was insensitive.
"My religion is my business alone. Whether I choose to do namaz or go to a church, how does it affect anyone? People shouldn't bother about what's not their business. I am all for freedom of expression, but being told how going to a temple makes me a non-Muslim is plain callous," Soha was quoted.
Speaking about how her household is an example of varied culture, Soha said that they celebrate Eid and Durga Puja with the same fervour. The daughter of late cricketer Mansur Ali Khan Pataudi and Sharmila Tagore, Soha added that Indian culture is what is celebrated in her home and not what bombards her Twitter timeline.
"I try not to be affected by it and frankly, as long as no one is coming into my private space or harming me physically, I don't care. But those who are desperate to have an opinion on my life, at least try to have an educated one,"
Soha added.
Soha Ali Khan will be next seen in '31st October' which releases on 7th October. Soha has been cast opposite stand up comedian and actor Vir Das in the movie. Helmed by Shivaji Lotan Patil, the movie talks about the plight of Sikhs post the assassination of former Prime Minister Indira Gandhi.