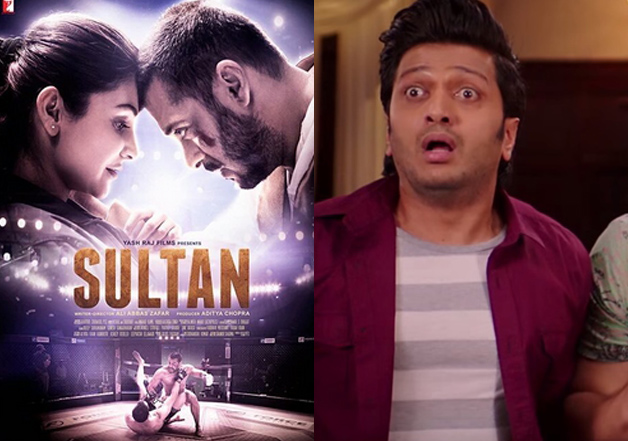 New Delhi: Superstar Salman Khan's 'Sultan' might have completed 9 days since release but the storm it started at the box office doesn't seem to end anytime soon. By collecting Rs 10.82 crores on Wednesday, the movie's grand total now stands at Rs 219.64 crores.
With Friday almost here, 'Sultan' has only one movie competing with it- actor Riteish Deshmukh's 'Great Grand Masti'. However, the way 'Sultan' is performing at the box office, looks like selling tickets would be a difficult task for 'Great Grand Masti'.
But, Riteish is confident. During his interview to a leading daily, he said that his movie has been marketed well.
Appreciating Salman's blockbuster, Riteish said, "Sultan is a great film. I saw it and thoroughly enjoyed it. I'm sure it will earn huge numbers but knowing the distribution, Balaji has taken a great effort with prepping the film. They've managed to figure out that it's the right time and we are very happy with what we are getting. I think we should manage a decent and a good release."
Speaking on what would attract viewers to the theatres, Riteish said that the movie has taken a huge leap since Masti (which released in 2004). He said that the naughty element is a lot more and the ghostly touch will make for an interesting watch.
He said, "I've been doing comedies but it's the first horror comedy I'm doing... with naughtiness. So all the masti is the same, format is the same - three married men are frustrated in their marriages so they go outside to seek a certain kind of excitement where they step out and think that ok fine lets go and have fun outside. They meet this girl. They are very excited and they are actually trying to figure out stuff and at a point they realize that she's not a normal girl. She's a ghost. That was the hook point when I told Induji (Indra Kumar) yes, this is a different story."   
'Great Grand Masti' is the third instalment of the Masti franchisee and it also features Vivek Oberoi, Aftab Shivdasani and Urvashi Rautela.